The new Nokia Prism collection: progressive design cut with personalized style
Espoo, Finland – Nokia tunes into the cultural zeitgeist with its modernist collection of fashion-alert mobile phones. The Nokia 7900 Prism and Nokia 7500 Prism with their sophisticatedly glamorous high gloss black faades reflect an independent attitude, which looks firmly to the future. Provocatively
alluring to both sexes, the Nokia Prism range also leaps past conventional design in its ode-toarchitecture sharp angled lines and graphic light-refracting color.
Standing out as opposed to slotting into the mobile phone milieu, the Prism collection artfully plays with juxtaposition: matt meets shine; light plays of dark; color and cool steel spliced black, and sharp lines
finish in softly bevelled edges.
Asymmetry and geometric lines are Nokia Prism's main design vein, which is reflected in the unique diamond-cut raised key-mat. Inspired by progressive architectural feats such as the Munich Stadium, the
Bank of China and Prada's store in Japan, this 3-D textural key-mat is as visually appealing as an archly modern Sir Norman Foster building or Chanel's iconic quilting.
A collage of design-driven cultural reference points entailing: 1950s rebellion; 70s punk; 80s graphics led album cover artwork and Deconstructivism" Prism phones are concept-driven design objects cut with an individualist edge. Bringing these trends right up to date Prism's haute-sheen finish taps into
current fashion leanings as big hitter names (Burberry Prorsum; Dior; Lanvin and Chanel) parade a stream of high-shine accessories.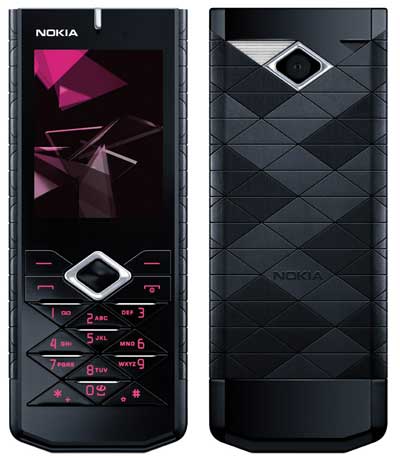 Nokia 7900 Prism
Nokia 7900 Prism
The aesthete's dream device; the Nokia 7900 Prism juxtaposes its sleek liquorice-black face with a cool anodised aluminium reverse-side, which is intricately coin-stamped and laser-etched in Nokia Prism's signature diamond-cut design. This linear strictness spills over into a ground-breaking Organic LED light display that emits light-focused graphics. Akin to an abstract artwork, the living wallpaper subtly alters throughout the day according to time as well as battery and signal strength, so that each screen is unique.
To drive home this individualist edge, the Nokia 7900 Prism with 3G capabilities has a gallery choice of 49 illumination colors. Once selected, this color radiates from under the graphic key-mat as well as from the LED display. It also pierces the top of the phone and when the device is switched off in "full-go black" mode this colored slab pulses to signal missed calls and messages.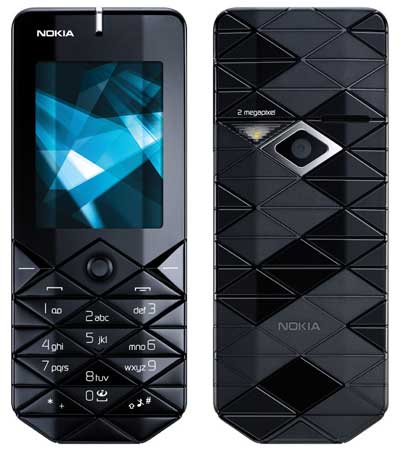 Nokia 7500 Prism
Nokia 7500 Prism
The Nokia 7500 Prism is the Nokia 7900 Prism's quirky sibling. The Nokia 7500 Prism's unquestionably cool slick black exterior is spliced with a playful burst of bright accent color. This strobe-light-like band nods to the burgeoning neon lights of contemporary urban club culture and is interchangeable in a trio choice of punchy colors. The Nokia 7500 Prism has a 2 Mpxl camera with flash; it can record high quality movies and play music for nine hours.
Archly sharp in its design execution the Nokia Prism collection also heralds facilitation including: easily changeable music interfaces and a side-situated camera button that makes light work of picture taking.- Nokia Prism Collection Press Release
– Nokia Prism Collection Official Site