After navigating around with Infocomm123 for about a week, I realize it is more than just a questions and answers portal (even though it is their main feature). There are many others such as the Big Fact Book and the Wireless@SG coverage (my personal favorite)! In this blog post I will give a brief walk through of the features.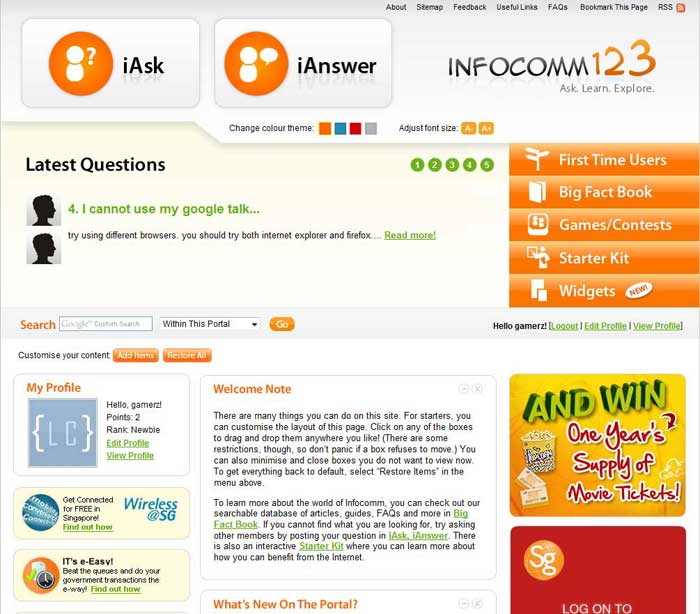 The one-stop portal where you can find all your infocomm answers!
iAsk, iAnswer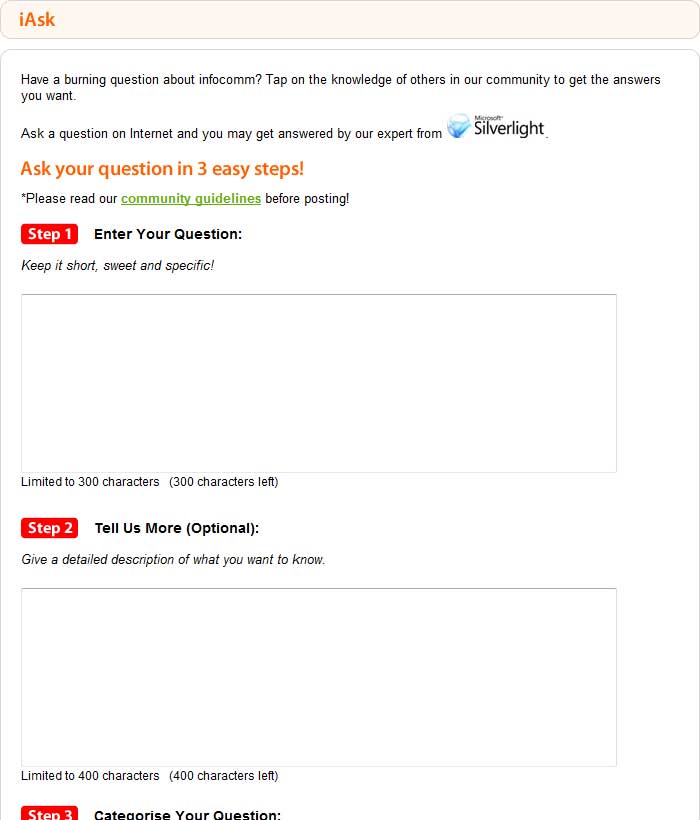 Ask other users infocomm queries. There is a pool of users who often return to answer users questions, and give new insights to the topic.
Starter Kit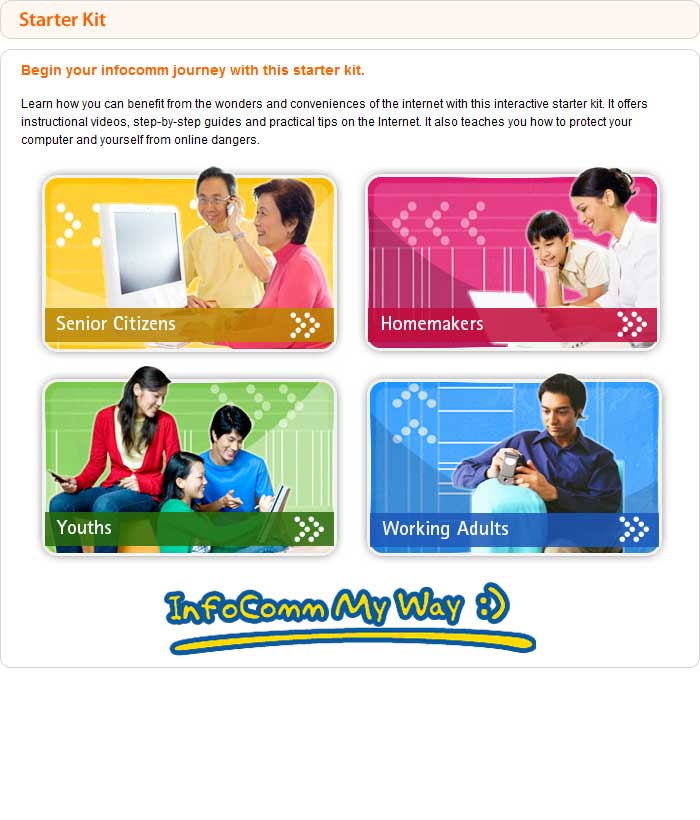 The Starter Kit includes 4 interesting video guides for different people of different age groups: Senior citizens, Homemakers, Youths and Working Adults! The Starter Kit is a great tool to get users to learn what they need to know about the Internet. Watch the interactive videos now and be on your way to becoming an infocomm guru!
Big Fact Book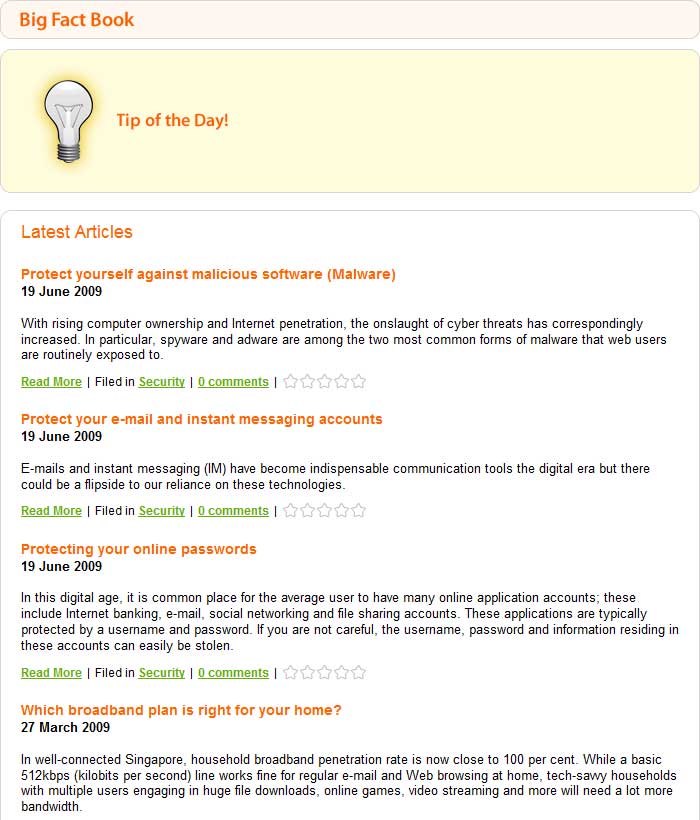 There are many up-to-date and helpful articles on a host of infocomm topics: broadband, email, entertainment, hardware, Government services, Internet, mobile, security, software and wireless. Users can read up on the chosen topic, beef up your infocomm knowledge and/or simply be enlightened!
Widgets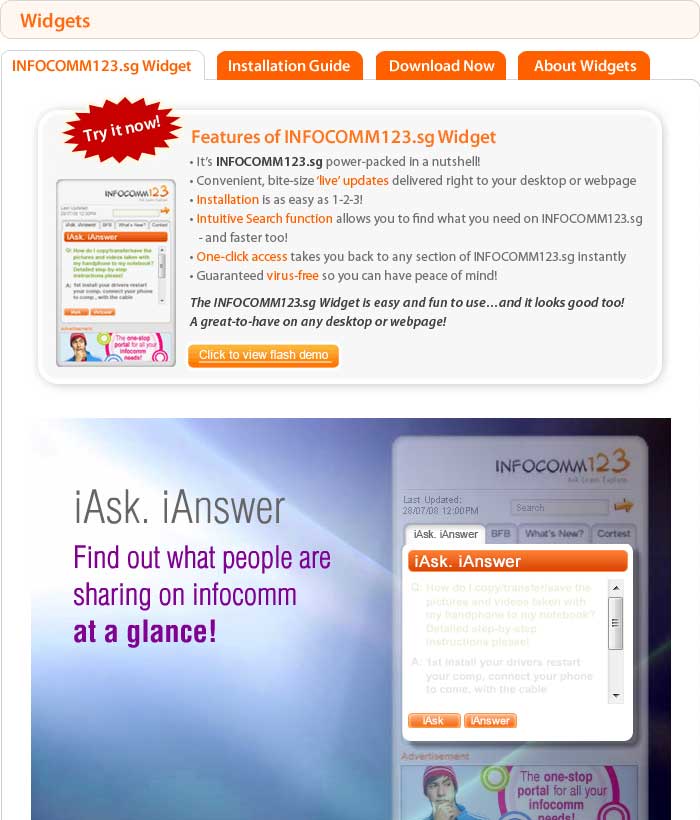 The handy cool-looking widget is a must have on everybody's desktop/PC. Now you can get the latest updates of INFOCOMM123.sg directly delivered to your desktop! Updates include the latest questions posted on iAsk, iAnswer, articles from Big Fact Book and the latest contests/promotions happening on the portal! Widgets work on both Windows and Macs.
Wireless@SG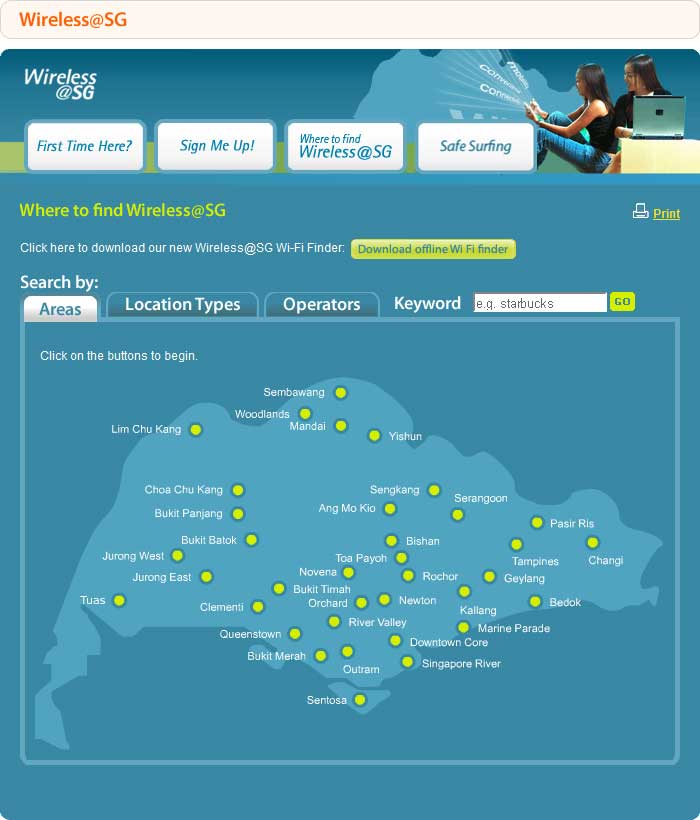 Find out about Wireless@SG with InfoComm123. From sign up to free surfing around Singapore and pick up tips on how to surf the Internet safely. Additionally with the offline Wi Fi finder, find Hotspots in Singapore, offline! Users will be able to find Hotspots with ease. Furthermore, they can also search by Location Types and Operators.
Events Calendar
Infocomm123's Events Calendar allows you to keep up-to-date on the infocomm events in Singapore all year round! There are different events displayed for all levels of proficiency of infocomm, from learning how to build a PC from scratch, to learning how to use Microsoft Word.
Games and Contests
There are two contests going on right now, the iLike. iLink Contest and the X-Box Xtravanganz! Do note that the contest will end this coming Monday, 27th July 2009. So if you have not took part in the contest, what you waiting for?
Sitemap
Lost you way in navigating the site? (you shouldn't be), check out the Infocomm123 Sitemap and it will give you an overview of Infocomm123!
Not yet a member of Infocomm123? Join now! By becoming a member, you will get insights to infocomm by freely asking any infocomm questions anytime and you get to help out fellow users with their infocomm queries and you will get rewarded!