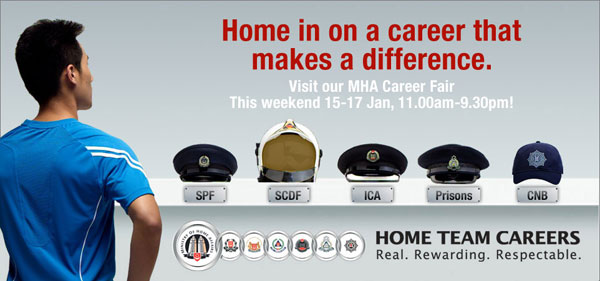 If you are thinking of looking for a career with the Home Team, then this blog post is for you. Home in on a career that makes a real difference.
The Ministry of Home Affairs (MHA) will be having a career fair from the 15th January 2010 (Friday) to the 17th January 2010 (Sunday) from 11.30am to 9.30pm daily at Marina Square Central Atrium.
The following 6 departments will be participating in the MHA Career Fair:
Singapore Police Force
Internal Security Department
Singapore Civil Defence Force
Singapore Prison Service
Immigration & Checkpoints Authority
Central Narcotics Bureau
If you are deciding which department to apply for, you may want to consider the Singapore Police Force (SPF). Everyday will be a difference experience for you, car accident, armed robbery, fighting, suicide and even bizarre things like snakes in the neighbourhood and even cats being stuck on the tree. These experiences will make good stories to share with your friends and even your kids in the future.
I got a friend who is in the SPF for many years and every time we met up, he always share us his experience as a policeman, from gruesome cases like suicide to humorous cases like asking those gangsters who hides a long parang knife in his pants to squat down.
In SPF, you will acquire skills that will turn you into a professional, vested with authority to protect the citizens of Singapore. It will be Real. Rewarding. Respectable.
Ministry of Home Affairs Career Fair 2010
Date: 15th – 17th January 2010 (Fri – Sun)
Time: 11.30am – 9.30pm daily
Venue: Marina Square Central Atrium
For further details you can check out MHA's very own Facebook Page.