The Epson LabelWorks LW-400 is one of the three label printing machines from Epson. The other two being the LabelWorks LW-300 and LabelWorks LW-900P.
The LW-400 is a mid-range model and is retailing for S$89, the LW-300 is an entry level retailing for S$69 while the LW-900P is the top of the line retailing for S$299.
If you are a member of Challenger, you can get the LW-400 for just S$84. The prices of the tapes range between S$18 and S$26.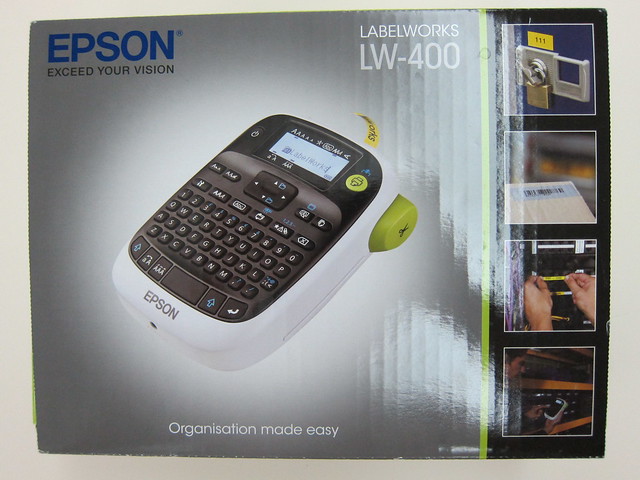 Do note that for the actual retail unit, you will only get one tape which is the 12mm Black on White.
The specifications below are from Epson and they are as detailed as you can get. In summary, the LW-400 supports 9mm, 12mm and 18mm tapes and you can store up to 50 custom label designs. It is powered by 6x AA batteries (power adapter is included).
Specifications
Printing

Technology: Thermal transfer
Tape Width: 9, 12, 18mm
Resolution: 180 dpi
Printable Dot Numbers: 64
Maximum Print Height: 9mm
Maximum Print Speed: 6mm/sec
Maximum No. of Printable Lines: 4
Maximum Text Length: 80
Multi-block: NA
Print Settings
Repeat Printing: 1 – 9 (Cut-mark)
Auto Increment: 0 – 9, a – z, A – Z
Mirror Printing: Yes
Vertical Printing: Yes
Margin Setting: 10mm fixed
Fixed Length: Auto / 30mm – 400mm (1′ – 15′)
Setting Area: Whole label
Wire Wrap: Yes
Flag: Yes
Barcodes: 8 (EAN-8 / EAN-13 / CODE39 / CODE128 / UPC-A / UPC-E / CODABAR / ITF)

Fonts & Styles

Fonts: 14 (Sans serif, Sans serif HG, Sans serif ST, Gothic, Bold Gothic, Roman, US Roman, CL Roman, Mincho, Gyosho, Reisho, BR, CB, Script PL)
Font Size: 5
Frames: 87
Tables: 2
Styles: 10 (Normal, Italic, Bold, Outline, Shadow, Shadow + Outline, Bold + Italic, Outline + Italic, Shadow + Italic, Shadow + Outline + Italic)
Layout Alignment: Left
Letter Pitch: Yes
Letter Width: 2

Memory

Alphanumeric: 62
Accent: 179
Accent Learning: Yes
Symbols: 457
Saved Label Design: 50
Last Label: Yes

Hardware

Cutter: Manual
Detection: Tape width, cover open
Strap Hole: Yes
Power Lamp: NA
Half Cut Lamp: NA
Feed Button: NA

Keyboard

Type / No. of Keys: QWERTY / 61

Display

Size: 128 x 32 dots
Backlit Display: Yes
No. of Characters Per Line: 16
No. of Lines: 2
Preview: Yes
Language: 7 (English, French, German, Spanish, Portuguese, Italian, Dutch)

Other Functions

Auto power off, Software reset, Unit switch (mm / inch)

Power Consumption

Printing (Average): 2.555W
Ready: 0.556W
Power Off: 0.180W

General

Batteries: 6 AA – not included
Low Battery Indicator: Yes
Dimensions (W x D x H): 170 x 110 x 56mm
Weight: 418g
Colors: Black, White and Green
Standard Warranty: 1 year
Machine
At the back of the LW-400, there is a hole that shows you the tape you are using. This allows you to quickly find out the size of your tape and approximately the length left. There is also a quick tips pasted below it which for first timers (like me) comes in handy.
Opening the lid, you have access to the tape and the 6x AA batteries needed to power the LW-400. The power consumption is pretty low, after printing almost 50 labels, the battery indicator still shows full.
Tapes
The 2 tapes that I gotten for this review is the 12mm Black on White and 18mm Grey on White. I did not use the Grey on White because the contrast of the text is not good enough for my liking.
Creating A Label
I am labelling my power adapters because sometimes you do not know which switch to off!
I like my labels to be prefix with an icon to make it look interesting. According to the specifications there are 457 symbols available, these includes the punctuations, parentheses, currency symbols, etc. After deducting all those, I think there are less than 150 icons available. I wish they have more.
After confirming the label, you can press the print button at the top right of the machine.
It also supports printing multiple copies of the label up to 9 with cut marks.
Specials
Apart from the usual labeling, you can do 3 special items which are labelling folder tabs, labelling wires and barcodes.
There are 3 styles available for the labelling of wires, "Flag: Horizontal", "Flag: Vertical" and "Flag: "Edge". I am using the horizontal style.
After selecting the style, you need to specify the label length, for some odd reasons, it does not point to auto by default, you have to scroll up/down a few options before you can choose the auto option.
You will notice the solid black line which is the fold mark. Once folded, it looks like this:
The LW-400 supports 8 different type of barcodes (EAN-8 / EAN-13 / CODE39 / CODE128 / UPC-A / UPC-E / CODABAR / ITF). I tested with EAN-13 as most products in Singapore are using it.
EAN-13 means there are 12 digits and the 13th digit is the check digital. The LW-400 will calculates the check digit automatically so you just need to enter the 12 digits. After printing the label, I tested to see whether it can be scanned using MobileTag iOS app and it works.
Summary
I wish they have more icons included, but since you can't upgrade the firmware for this, you are pretty much stuck with the fixed number of icons.
Overall I am a satisfied user of the LW-400 (I might get one for myself), it is priced reasonably and have very low noise level when printing the labels. I think all household should have at least one labelling machine. For moms/wives, they can label the spices/food containers in the kitchen, for dads/husbands they can label the wires that goes around the house and the power adapters and for children they can label their own textbooks.