I went to Singapore Indoor Stadium to watch The Year of Jacky Cheung World Tour 07. It was my first time watching a concert.
I was there about 2 hours earlier (the concert suppose to start at 8 pm) and there are plenty of carpark lots available. I was monitoring the car park, and I concluded that to confirm find a parking lot beside the Singapore Indoor Stadium (there are plenty of car parks, I am talking about the nearest car park), it is best to come 90 minutes earlier.
As for dinner, the best is to have dinner first before going there because the restaurants there are VERY LIMITED and they are not cheap as compared to other restaurants. I ended up waiting for Nissin Cup Noodles with LiXiang at 7-11 because it is the cheapest alternative, even though the cup noodles cost $2.25 each.
We bought a pair of $88 tickets for $190 because it is sold out everywhere, and we got this lobang from Hardware Zone: MarketPlace Classified/Garage Sales.
As usual, being in Singapore, everything gets delayed. The concert got delayed till about 8.30 pm before it started.
The concert lasted for 2 hours and 45 minutes, and after that, there is 45 minutes of Ann Kok encore. It is during the encore part that he sings most of his oldies.
The concert/encore ends with the song Zhu Fu which brings the atmosphere to the max, I think I love that part the most. I recorded that part, but I think I will violate some law if I upload that part to Youtube.
He speaks mostly in Cantonese, but from what I gathered from Hardware Zone, during his concert on Friday, he speaks mostly in Mandarin. So whenever he speaks, I have to ask Li Xiang to translate it for me because I have no idea what he is talking about as I do not understand Cantonese.
Overall, the concert is very worth it and definitely beats listening to a CD at home (which I always thought it is the best alternative). The ambiance and atmosphere are 2 important factors that make the money worth it.
Next time when I go out to work, I will definitely get the most expensive ticket, but now being a poor student, I should just be satisfied with the cheapest ticket.
To be honest, throughout the whole concert, I only know a handful of songs. Most of the songs are alien to me. LOL
It is a pity he didn't sing "In Love With You", which he duetted with Filipino singer-actress Regine Velasquez.
By the way, there is no special guest.
Here are some photos from the concert.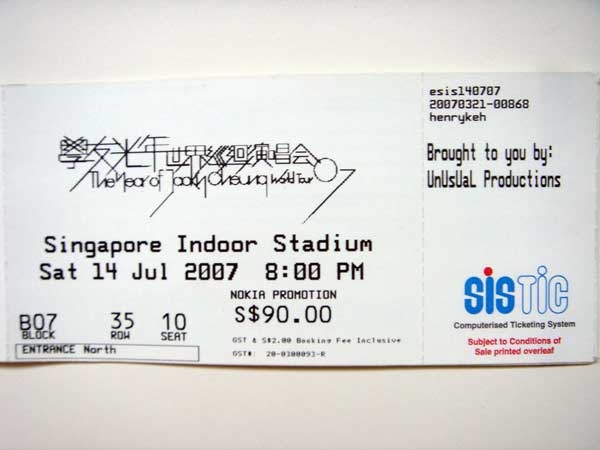 Ticket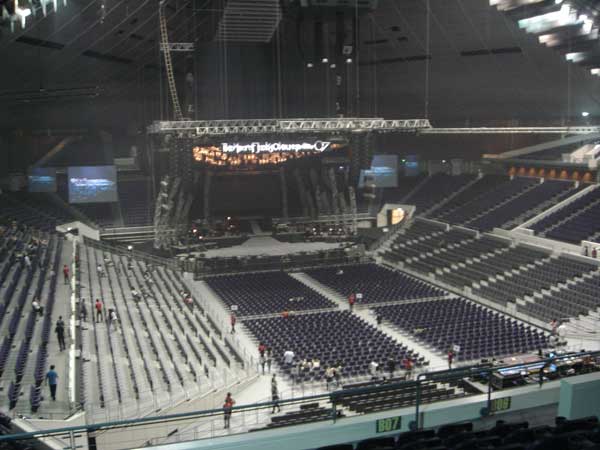 Stage – Actual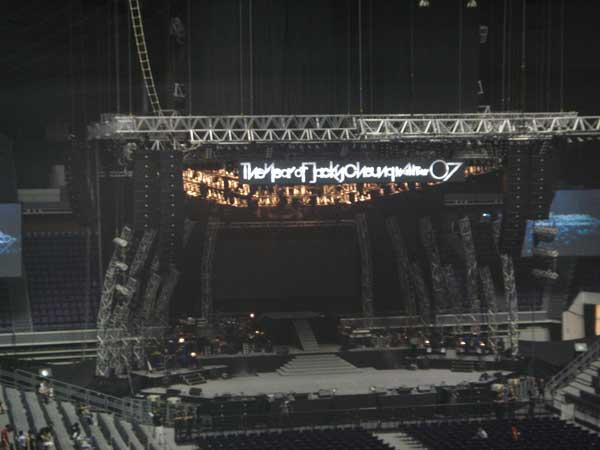 Stage – Zoom In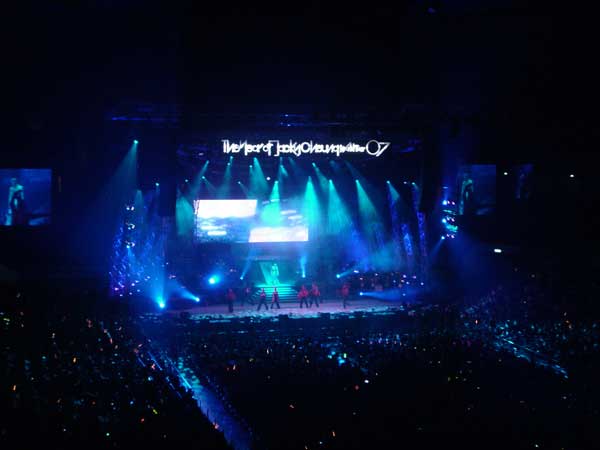 Jacky Cheung With Dancers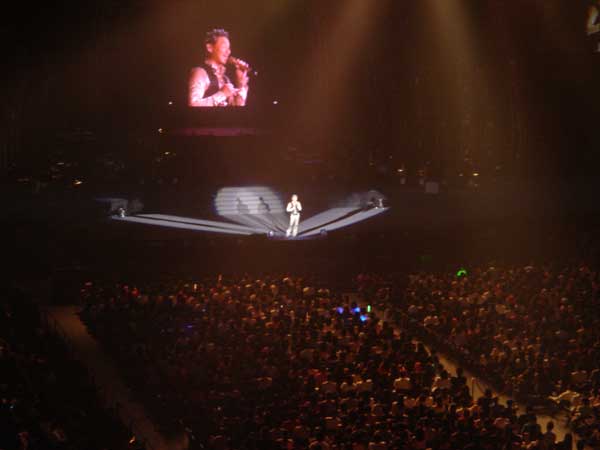 Jacky Cheung Alone Giving Speech
Ticket prices are: (SGD) $198, $168, $128, $88 (Avg: $145.5)
Seating Capacity of Singapore Indoor Stadium (during Concert): 7,306 – 7,968 (Avg: 7, 637)
Number of days the concert is held: 3
Estimated revenue: 3*$145.5*7,637= $3,333,550.50
I wonder how much of the actual money goes to Jacky Cheung.