Went to catch Disney On Ice at Singapore Indoor Stadium last Saturday (8th March 2008). We caught the last slot for the day which is at 7.30pm.
We met up for dinner at Bao Luo Wan Xiang located at Plaza Singpura's basement 2 together with Wayne. According to Li Xiang they also have a branch at Lao Pa Sat but she said that the branch at Plaza Singapura taste much better. Not forgetting the price is very affordable, a bowl of noodle is about S$5.00 and the tim sum is about S$2.50 for each basket.
We also did try a Taiwan street snack which is exactly like the Japanese Sushi but much bigger, they called it QQ Rice. They use brown rice and ingredients like egg, cheese, turkey and beef. But the pricing is quite expensive, it cost about S$4.50 each.
Took bus number 16 and we reached Singapore Indoor Stadium. While waiting for Terry and his girlfriend, we took a walk at Kallang Leisure Park. It has been more than 10 years since I last went there and last time there is a ice skating ring there, now the only one left is at Jurong Entertainment Center.
We did not walk around much but there is a food court and a movie operator there which is not under GV, Cathay or Shaw. I hate the toilet the most, for gents, they use violet lights and for ladies they use some red lights. The lighting makes the toilet so dull and dim. I think there is something wrong with the toilet architect eyes.
Not much Disney's merchandise is displayed outside and there are very expensive and does not look nice. The show starts exactly at 7.30pm which I like. There are total of 5 sections, I can't really remember the order of the section but there was Lion King, Little Mermaid, Lilo & Stitch, 101 Dalmations and Peter Pan. After 30 minutes into the show (2 sections later), there is a 15 minutes interval and after that the remaining 3 sections follows. The whole show lasted only 1 hour and 45 minutes even though SISTIC website put 2 hours and 15 minutes (including 15 minutes interval).
Overall the show is nothing special, I would not want to see it again as I nearly fall asleep halfway through the show. And accordingly to Wayne, he told me that the show last time was much better. I am also being irritated by those parents and curators walking around non-stop throughout the whole show.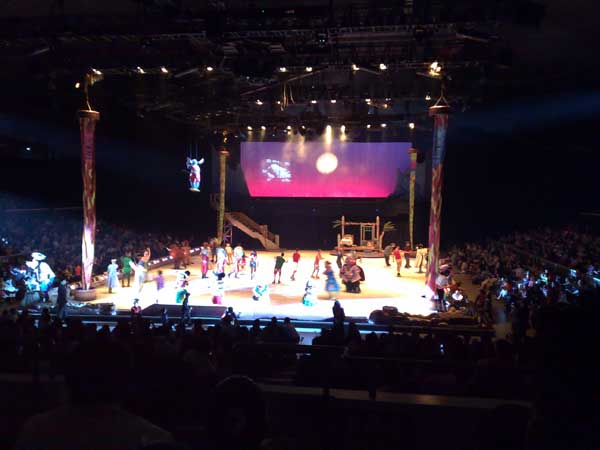 After the show we wanted to walk to Suntec City, but after walking for 45 minutes, we lost our way and have no choice but to take a taxi. We took a cab from Rhu Close to Suntec City and it cost us S$6.00. Taxi nowadays is indeed expensive.
We chill out at Starbucks and we talk about housing and how expensive it is to just own a house. Basically in Singapore, you will be paying for your house till you die or grow old and that is what we peasants in Singapore will be doing, while the others just get a few million in salary per year by just talking.
I also explain web development terms to Terry like different between each web programming languages, servers, OSes, AJAX, client side programming. I think his company should offer me a consultant job when I graduate =D