Intel has announced the successor to Intel Core 2 Quad (codename Yorkfield) to be Intel Core i7 (codename Nehalem). I suddenly feel that my Q9450 feels old.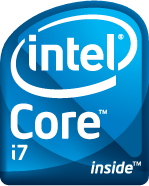 SANTA CLARA, Calif., Aug. 11, 2008 – Intel Corporation announced today that desktop processors based on the company's upcoming new microarchitecture (codenamed "Nehalem") will be formally branded "Intel Core processor." The first products in this new family of processors, including an "Extreme Edition" version, will carry an "i7" identifier and will be formally branded as "Intel Core i7 processor." This is the first of several new identifiers to come as different products launch over the next year.

Products based on the new microarchitecture will deliver high performance and energy efficiency. This "best of both worlds" approach is expected to extend Intel's processor leadership in future mobile, desktop and server market segments.
Source: Press Release: Next-Generation Intel PC Chips to Carry Intel Core Name
Read: Wikipedia: Intel Core i7