Spend more than 10 hours to modify lesterchan.net layout to make it iPhone/iPod Touch viewable. At the moment, you can only view blog post and not pages. I have no plans to make the pages iPhone/iPod Touch viewable yet as it is a lot of work and I don't find it necessary.
Just point your iPhone or iPod Touch to lesterchan.net and it will detect your user agent and serve you the iPhone/iPod Touch layout if you are using either of the devices.
Here are 2 essential resources to get you stared, Apple: Safari Web Content Guide for iPhone and Ajaxian: iPhone Web Development Tips and Official Documentation Released.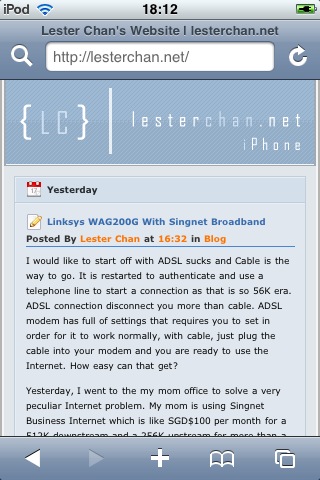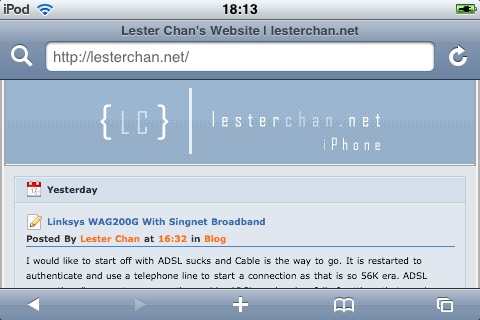 While on the topic of site updates, here is the changelog since 4th July 2008:
NEW: Close comments after 30 days instead of 14 days
NEW: Highlight search words when viewing post
NEW: Add hosted by Frro
NEW: Add scroll bar To Recent Comments in Welcome Box if content too long
NEW: Upgraded To WordPress 2.6
NEW: Upgraded My Plugins
FIXED: Removed all broken links using Broken Link Checker WordPress plugin
FIXED: "No Comments" text not displayed if there is at least 1 trackback/pingback with no comments posted
FIXED: Comment numbering is wrong after doing AJAX comment posting if there is at least 1 trackback/pingback
FIXED: Search two or more words
FIXED: Gallery hits increased by 1 on every photo viewed
FIXED: Added urldecode() for $_SERVER['REQUEST_URI'] and $_SERVER['HTTP_REFERER'] in 404 page
FIXED: 10 Latest Comments in Welcome Box showing Pingback/Trackback