Many people come to know YotaPhone 2 as the phone with two screens. It is the world's third phone with two screens as far as I know. The first is YotaPhone 1 which didn't make it to Singapore and the second is NEC Medias W N-05e which is also not available in Singapore.
The YotaPhone 2 is retailing in Singapore for S$1,048 and you can buy it online via YotaPhone.com or Expansys. Note that the price S$979 on these two websites are before the 7% GST.
Specifications
OS: Android 4.4, KitKat (Android 5.0 Lollipop coming soon)
Processor: Qualcomm Snapdragon 801 2.2 GHz quad-core
RAM: 2GB
Storage: 32GB eMMC
Form Factor: Monoblock with full touch capacitive screens on the front and back
Screen (Front): Color Screen, 5″ AMOLED Full HD (1920×1080) (442ppi) with Corning Gorilla glass 3
Screen (Back): Always-on Screen, 4.7″ 16-level grey scale Electronic Paper Display (960×540) (235ppi) with Corning Gorilla glass 3
SIM Type: Nano-SIM
Dimensions: 144.9 x 69.4 x 8.95 (mm)
Weight: 145g
Camera (Main): 8MP AF, LED Flash
Camera (Front): 2.1MP
Network

GSM/EGPRS 850, 900, 1800, 1900 MHz
WCDMA, DC HSDPA (rel. 8, cat. 24)
HSUPA (rel. 7, cat 7) bands 1 (diversity), 2, 5 and 8
LTE (rel. 9, cat 4) bands 3, 7 and 20, VoLTE

Sensors: Accelerometer, compass, gyroscope, proximity sensor, amibient light sensor
Connecitivity: WiFi 802.11 a/b/g/n/ac (VHT20, MSC 8), MicroUSB 2.0 (SlimPort), Bluetooth 4.0, NFC, A-GPS + GLONASS
Battery: 2,500mAh
Wireless charging: Yes
Battery Life

Stand-by time (2G, mobile data off): up to 16.5 days (397 hours)
Stand-by time (3G, mobile data off): up to 17 days (406 hours)
Stand-by time (LTE, mobile data off): up to 16 days (387 hours)
Talk time (audio call, 2G): up to 41.8 hours
Talk time (audio call, 3G): up to 26.0 hours
Talk time (audio call over Skype, LTE): up to 13.7 hours
Talk time (video call over Skype, LTE): up to 1.8 hours
Reading with Yota Reader (3G): up to 109.3 hours
Video streaming playback time (LTE): up to 5.5 hours
Video streaming playback time (Wi-Fi): up to 5.8 hours
Local video playback time: up to 9.5 hours
Audio streaming time (LTE): up to 5.4 hours
Audio streaming time (3G). up to 17.8 hours
Audio playback time, local, headset: up to 92.0 hours
Audio playback time, local, speaker: up to 62.4 hours
Web browsing (LTE): up to 4.5 hours
Web browsing (Wi-Fi): up to 4.4 hours

Audio

3.5mm AV connector, FM radio
Audio formats/codecs: AAC LC, HE-AACv1 (AAC+), HE-AACv2 (enhanced AAC+), AAC ELD, AMR-NB, AMR-WB, FLAC, MP3, MIDI, Vorbis, PCM/WAVE.
Supported files types/container formats: 3GPP (.3gp), MPEG-4 (.mp4, .m4a), ADTS raw AAC (.aac), MPEG-TS (.ts), 3GPP (.3gp), FLAC (.flac), MP3 (.mp3), MIDI Type 0 and 1 (.mid, .xmf, .mxmf), RTTTL/RTX (.rtttl, .rtx), OTA (.ota), iMelody (.imy), Ogg (.ogg), Matroska (.mka), WAVE (.wav)

Video

Full HD 1080p
30fps
Video formats/codecs: H.263, H.264 AVC, MPEG-4 SP, VP8.
Supported file types/container formats: 3GPP (.3gp), MPEG-4 (.mp4), MPEG-TS (.ts), WebM (.webm), Matroska (.mkv).
Packaging
I kinda like the packaging of the YotaPhone 2. It looks nice but because of that, it adds bulk and weight to the overall packaging. It has been a while since I saw such a nice packaging for mobile phones. Normally, mobile phones packaging are always minimalistic.
Design
These days when most of the high end Android phones are made up of metal, the YotaPhone 2 doesn't feel premium when you first hold it.
Despite that the YotaPhone 2 is a pretty lightweight phone, weighing only at 145g. It is made up of a magnesium chassis with a glass fibre-reinforced plastic outer surface. The two screen at the front and back is made of Corning Gorilla Glass 3.
I find holding the phone with the main screen facing you is a little slippery because of the smoother finishing of the e-paper display screen. I am pretty sure it will slip off your hands one fine day and hence I would totally recommend getting a bumper to protect it.
I read other reviews and they did mention that if you hold the phone with the e-paper screen facing you, it is a little uncomfortable. For me, I find it is alright though it is awkward because of the lack of grip due to the straight edges of the phone.
Because there are two screens on the phone, it will not be possible to use a case with it and hence you can only use a bumper to protects the sides of the phone. The Corning Gorilla Glass 3 will be more than adequate to protect your phone screens and hence you need not worry about the screens.
An interesting design of the YotaPhone 2 is that the nano SIM slot is built into the volume buttons as shown in the image below.
Two Screens
There are two screens (duh) in YotaPhone 2. According to the technical specifications, the main screen in front is known as the color screen. It is 5″ AMOLED Full HD (1920×1080) with a pixel density of 442ppi.
The back screen which is known as the always-on screen is a 4.7″ 16-level grey scale Electronic Paper Display (960×540) with a pixel density of 235ppi. Because it is an always-on screen, there is no way for you to switch it off.
Both screens have full capacitive touch capability.
The refresh rate of the always-on screen is 0.12s and I find it a little slow and it felt sluggish to me. But on bright side (no pun intended), the always-on screen has almost 180 degree viewing angles and excellent readability even in direct sunlight.
OS
YotaPhone 2 comes with Android 4.4.3 (KitKat) with Android 5.0 (Lollipop) coming soon. Though no words on how soon will it be.
The OS is as close to stock Android OS as it can be.
It comes bundled with about 11 other apps which you can't remove like 2048, ABBYY Lingvo, Checkers, Chess, FM Radio, LitRes, OfficeSuite, Sound Recorder, Sudoku, YotaHub, Yota Reader and YotaRSS.
You basically only need YotaHub, Yota Reader and YotaRSS to make use of the second screen. I wish in the next update, Yota will allow you to remove those other apps.
YotaHub
YotaHub is the main app that controls the display of the always-on screen of the YotaPhone 2. Inside the YotaHub app, there are two features which is the YotaCover and YotaPanel.
YotaCovers are photos and notifications that bring beauty and personalisation to your device without giving anything away to onlookers.
YotaPanels offer at-a-glance widgets and shortcuts to contacts and apps that are all rendered in power-saving E Ink. YotaPanels are in principle very similar to Android home screens, which also contain widgets and shortcuts, but our panels are specifically designed to work well and look good on the special rear display
For YotaCover, you can pick photos from your Facebook or Instagram profile to display it on the always-on screen or you can choose the whole album and have the photos inside the album rotated on a regular basis.
YotaHub – YotaCovers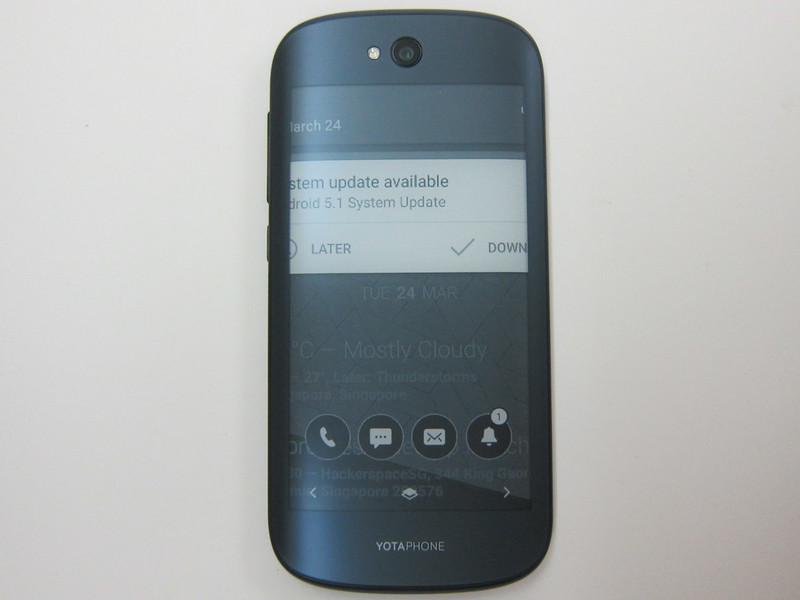 YotaHub – YotaPanels
YotaPanel is sort of my favourite app because I love widgets and I like my always-on screen to display widgets rather than just showing photos.
You can customised your own YotaPanel from a list of presets or you can choose your own grid widget layout and build one from scratch.
Just like Android homescreens, you can have multiple YotaPanels or YotaCovers and you can swipe to navigate through them in the always-on screen.
YotaReader/YotaRSS
You can embed an e-book widget into YotaPanel using YotaReader or RSS widget using YotaRSS. YotaRSS uses Feedly.
Yota Mirror
There is another cool feature called Yota Mirror. It allows you to use any application on the Yota Always-On Display such as an e-reader or other app for better battery life and readability. This gives longer operation time and you can quickly mirror normal Android OS to the rear screen, in order to run any app (i.e., even one not tailored for the e-paper display), such as Amazon Kindle, WhatsApp or Spotify.
To access Yota Mirror, you have to tap and hold the Android home button. While still holding, swipe to the left-hand 'mirror' icon and then let go.
YotaMirror looks cool, but a little gimmicky.
Yota UI Walkthrough
I have put together a video walkthrough of YotaHub, YotaCover, YotaPanel and YotaMirror.
Camera
The camera on the YotaPhone 2 is just average and for some reason it looks purplish when compared to the same photo taken by my iPhone 6 Plus.
Check out the photos below for comparison.
Summary
The YotaPhone 2 is indeed innovative. However, it is pricey at the same time because of the dual screens. For my use case, the second screen felt a little gimmicky rather than having actual use.
If you read e-books on the go, the 4.7″ screen will be a little too small.
The always-on screen display information that you need but for me, I am using the Pebble, so I can check my time, calendar events and notifications without touching/looking at the phone.
Using the always-on screen to save battery is frustrating because the interactions are sluggish due to the refresh rate of the e-paper screen. With portable battery packs becoming cheaper and the norm these days, most people will just bring a battery pack along to charge and use the phone at the same time.
Pros:
Dual screen
Close to stock Android OS
Cons:
Expensive
Average camera performance
E-paper screen refresh rate is slow