In case you missed out the unboxing and design post of the Huawei P20 Pro, you can check it out here.
After using the P20 Pro for a few weeks, I would recommend getting a case for it. The back of the phone is a fingerprint and dust magnet.
Also, if you place the phone facing up, the phone will wobble when you tap on the screen due to the camera bump at the back. A case will solve this issue as the case's camera cut-out will flush the camera bump.
EMUI
I have gotten used to EMUI as I have been using Huawei phones for more than one and a half years since the Mate 9.
P20 Pro comes with EMUI 8.1 running on top of Android 8.1 Oreo.
EMUI 8.0 is what I reviewed on the Mate 10 Pro last year, and it has features like Full-screen Display, View Mode, Smart Controller, Microsoft Translator, and Desktop Mode. The same features can be found in P20 Pro as well, so I will not be covering it here.
One of the features that I missed out mentioning in the Mate 10 review is the customizability of the notification/status bar. You can choose the option to disable the carrier name and whether to show the battery percentage next to or inside the battery icon. You can also choose to display the network speed which is useful when you are tethering. For me, I decided to hide my carrier name and show my network speed.
I love all the customizability given in EMUI, the only thing I dislike about it is the look of the skin. So I am using Nova Launcher with Pix UI 2 and HD Widgets. I love clean and simple skin.
Third Party Pre-Installed Apps
For some reasons, the P20 Pro comes with more third-party pre-installed apps that my Mate 10 Pro. I am not referring to those Huawei branded apps as those can't be uninstalled.
Apps like Deezer, Lazada, Liquid Pay, OneService, Tips, Booking.com and five games. Of course, I uninstalled all of them.
The only three pre-installed apps that I didn't uninstall are Facebook, Messenger, Instagram, and Netflix.
Face Unlock
Face Unlock is Huawei's answer to Apple's Face ID in a less secure way due to the simple fact that Huawei uses the front camera to achieve it. The P20 Pro is the first device to have this feature since it comes with EMUI 8.1 out of the box. It will roll out to the Mate 10 Pro soon with the EMUI 8.1 update.
Similar to Apple's Face ID, you can't enroll multiple faces, only one.
Enrolling your face is also fast. I would say it is as fast as enrolling with Apple Face ID.
I have been using it every day, and I find it is extremely fast when unlocking the phone due to the lack of animation when unlocking. I would say it is faster than Face ID, but because it is so fast, it gives me an impression that it is "fake." But luckily, it didn't unlock my phone when I tried with other people faces.
Notch
Embrace the notch! These days almost all flagship Android phones will come with the notch except for the Samsung Galaxy S9 series.
For the P20 Pro, the notch area consists of the front speaker and the front camera. If you find it irritating, you can always choose to hide the notch under the settings. What this setting does is it will display a black bar across the notch area, effectively blending the screen and the notch.
I don't find the notch distracting, and so far the only app that has an issue with the notch is Instagram Stories. That will probably get a fix by Instagram or by Huawei when Android P officially includes notch support.
I have no idea why Huawei spend so much effort on the notch at the top but left a chin at the bottom.
The fingerprint sensor doubles up as a navigation area, and you can use it to replace the usual Android onscreen navigation keys (Back, Home, and, Recent Apps). Tap on it for Back, tap and hold for Home, swipe left or right for Recent Apps.
I still prefer iPhone X's swipe gestures. In this way, there is no need for a chin, and the fingerprint sensor can be moved to the back to make way for a larger screen area.
Transferring Files to Computer
To transfer photos, videos or files to your computer, you need to install the HiSuite. It is available on mac on the Mac App Store and for windows, you can download it from Huawei HiSuite Site.
Once done, you need to go to Settings > More > Security & Privacy > Allow HiSuite to use HDB.
Photography
The flagship feature of the P20 Pro is the triple Leica camera placed vertically at the back of the phone.
The camera at the top is an 8MP telephoto camera with f/2.4 aperture. Below it is the 40MP RGB camera with f/1.8 aperture and at the bottom is the 20MP monochrome camera with f/1.6 aperture.
The image sensor of the P20 Pro is 1/1.7″. The larger the sensor, the more details it can capture. This gives you high-resolution photos and good low-light shots.
Thanks to the 8MP telephoto camera, you will be able to get up to 5x Hybrid Zoom. Huawei's Hybrid Zoom is not optical zoom, and it will not be as good as optical zoom. Hybrid zoom uses the captured photo data from all the cameras at different focal lengths to rebuild the zoomed-in photo.
The 5x Hybrid Zoom is very impressive.
Huawei always touted AI with their camera software. What the AI does is when you take a photo, it will automatically identify what you are taking from 500 different scenarios and selects the best photography mode and camera settings to deliver the best photo.
In my tests, it manages to detect Food, Blue Sky, Snow Cap, Waterfall, Flowers, and Greenery. Though I am not a fan of certain modes like Blue Sky and Greenery as the AI tends to make it very blue and very green respectively.
Photos taken by the P20 Pro always looks beautiful due to post-processing whereas if you compared it with iPhone X, it seems raw but closer to what your eye sees.
My wife who is a designer finds that photos taken by the P20 Pro looks too processed for her liking. She always manually touch up all her photos before posting it online. Not an issue as you can disable the AI under the camera settings and proceed on to touch it up manually.
But for me, I am a lazy guy. I don't touch up my photo before posting up, and hence I like the photos taken by the P20 Pro using the AI.
The night mode for the P20 Pro wins iPhone X hands down. You can use the "Photo" mode to shoot a normal night shot, or you can use the "Night" mode.
What the Night mode does is that it will use the AI to calculate how much time is needed for the shutter to be open to capture the best night shot. So you will need a tripod when shooting with Night mode.
I am very impressed with the night shots of the P20 Pro.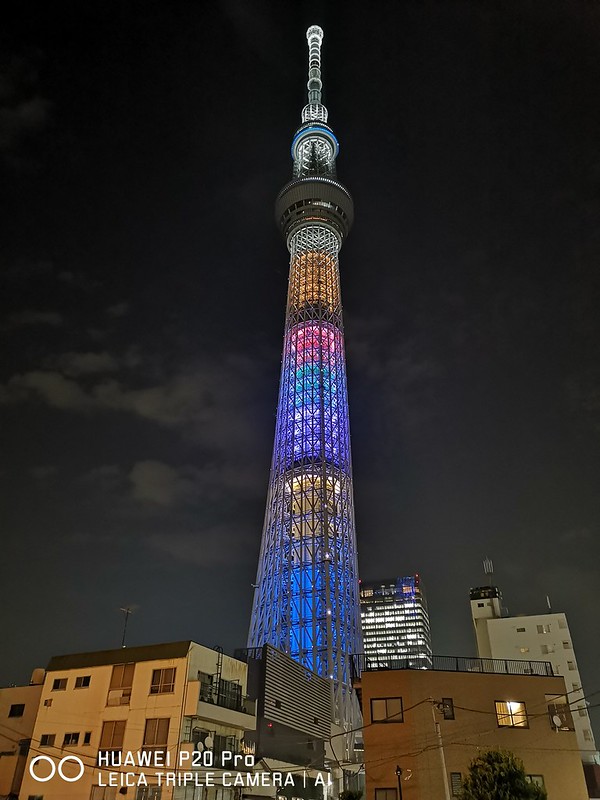 There is a shortcut for taking a quick photo even when the screen is off. Huawei called it the Ultra Snapshot mode. Just double press the volume down button, and it will capture a photo in under 0.3 seconds. To be honest, I did not use this feature much.
Here are some more photos:
By default the P20 Pro watermark is disabled. The reason I enabled the watermark in my photos is to allow me to clearly differentiate photos taken between iPhone X and P20 Pro.
Videos
The P20 Pro comes with something called Huawei AIS. AIS stands for AI Image Stabilization. Rather than using Optical Image Stabilization (OIS), Huawei took the software approach when comes to image stabilization.
Despite the fact that iFixit's P20 Pro Teardown reveals that all three cameras of the P20 Pro have OIS, Huawei still chooses to go with software image stabilization.
Or maybe, Huawei is using a hybrid approach to image stabilization. If that is the case, why not called it Hybrid Image Stabilization (HIS)? I guess that the OIS is just there for future-proof.
Note that there is no video stabilization for 4K videos and full HD videos at 60fps.
In my tests, I found that the 4K video stabilization is close to non-existence. For full HD videos stabilization, it works as advertised. Hopefully, Huawei will be able to make use of the OIS in future updates to solve the 4K video stabilization issue.
Feel free to compare the two videos below. I did not purposely shake the 4K video. It is quite bad without stabilization.
Below two videos are shot at night. I hold the P20 Pro against the glass panel at Starbucks Tsutaya facing Shibuya Crossing. As you can see, I still could not prevent my hand from shaking from in the 4K video.
Huawei P20 Pro includes something called the super slow motion. Super slow motion captures shots at 960fps.
It records two-second footage at 960fps and split it into a ten-second footage. These two values are fixed, and you can't change it.
It is pretty cool and is a wow factor, but I can't find any practical use for it. The quality is not that good as well.
Sony is the first company to bring the super slow motion to a mobile phone. The Sony Xperia XZ Premium is the first phone to have that feature. A year later, Samsung also included the super slow motion to its Galaxy S9 series.
Conclusion
My tl;dr (too long; didn't read) version to my friends is always whether you are a person who likes to post process photos or just capture and forget about it. Photos taken by Huawei phones be it the Mate 10 Pro or P20 Pro, always looks beautiful and post-processed. And in my humble opinion and coming from an iPhone lover, I would say the P20 Pro takes better photos than iPhone X out of the box without any editing.
If you belong to the former group, you will need to disable the AI on the P20 Pro and perhaps capture the shot with Pro mode so that you can adjust the ISO, shutter speed, and white balance. In this case, the P20 Pro might or might not be suitable for you as you can do the same thing on other phones.
However, if you are a lazy person like me who don't post-processed photos and like them taken nicely without doing anything, the P20 Pro is definitely for you.
If you take a lot of night shots, the P20 Pro is also for you.
There is no expandable storage or 3.5mm audio port in the P20 Pro. P20 Pro comes with 128GB of internal storage, and that should be more than enough for most people. For the 3.5mm audio port, I know some guys swear by wired earphones. Personally, I have moved on to wireless earbuds, so it is no big deal for me.
One of my favorite things I like about the P20 Pro besides the camera is the battery. It features a 4,000mAh battery, and it will give you more than a day worth of usage. Even when using it as a hotspot, it can last you almost a full day.
If you do get the P20 Pro, please get the flagship color, Twilight.