Introduction
Nokia announced the N-Gage platform last August during Nokia: Go Play event held in London (global press conference) as well as in Singapore (Asia Pacific press conference). As some of you might recognize N-Gage as being referred to as gaming mobile phones ( N-Gage Classic and N-Gage QD) 5 years ago. Nokia has since moved on to using a software approach where N-Gage can be accessed on almost all the later mobile phones rather than being tied down to specific devices. N-Gage games used to be cartridges but now it is distributed straight to the N-Gage platform using Ovi (Nokia's "umbrella concept" Internet services).
I was invited by Nseries WOM World to beta test the N-Gage platform and share my views and thoughts with the rest of my readers. They sent me a Nokia N81 8GB all the way from UK to Singapore came fully loaded with my N-Gage Profile and 4 unlocked (full version) games.
I am not really a mobile games person as I normally do not play games on my mobile phone. But after playing around with N-Gage for about 1 week, I am kinda addicted to playing games on the N-Gage when I am waiting for someone or I got nothing to do.
In this first impression review, I will do a walkthrough of the N-Gage application came installed in N81, N82 and N95 8GB.
Home Tab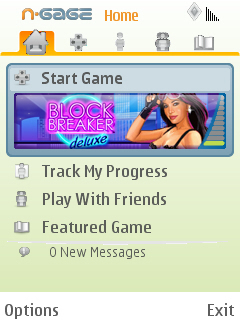 This is first screen that you will see when you launched the N-Gage application. It is also the first tab of the application.
Start Game: The last game that you played can be access straight from here.
Track My Progress: When this item is selected, it will display your N-Gage Points, Reputation and the number of friends that you have. This item is basically a summary of the œMy Profile Tab.
Play With Friends: This item will display your friends profile.
Featured Game: As the item name suggests, the game of the week from Ovi will be display here.
New Messages: This is the place where you can access message like an inbox. When you get a friend request, the request message can be access from there.
My Games Tab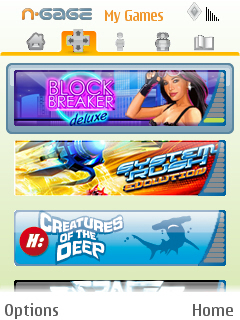 This tab will simply display all the games (including full and trial games) that you have on your N-Gage. For my beta testing, I have full access to 4 games namely Block Breaker Deluxe, System Rush Evolution, Creatures Of The Deep and Space Impact: Kappa Base. I downloaded 1 trial game which is Tetris. As you can see beside each full version game there will be a level gauge bar which increases if you have gotten more points for that game. If you game is a trial version, the TRIAL word appears instead of the gauge bar.
I would not go into much detail about the games here.
Block Breaker Deluxe is my favorite game among the 3 other games as it is simple and addictive. I might consider buying it once N-Gage is officially available.
System Rush is something like Wipe Out, but I cant seem to find the objective of the games after playing it a few times.
Creatures Of The Deep is my brothers favorite game as it is based on fishing and the graphics is fantastic.
Space Impact: Kappa base is a top view airplane shooting game. This is my 2nd favorite game.
I cant get any screenshots for any games because of the Screenshot Application I am using could not capture a clean shot of any in-game scenes.
My Profile Tab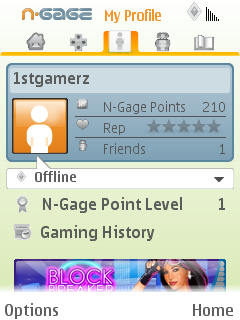 This is your profile page where you can see your own N-Gage points, reputation and number of friends that you have.
When you select on the Offline options, you can change your personal availability status, just like any instant messenger.
Under Gaming History, it will list out the games which you last played in order.
My Profile Tab – Edit Profile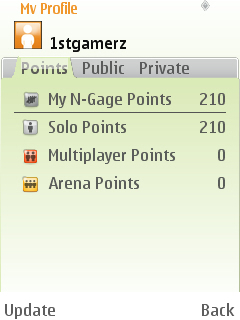 You are able to edit your profile by clicking on the Option soft key followed by Edit Profile. The screenshots above are pretty self explanatory.
I want to highlight about the feature that I like the most about this application which is the Connection Settings. That is the Preferred Access Point and Alternative Access Point. Most of the time I will be playing games using my home wireless network and hence I set it as my preferred access point. But at times when I am outside and in order to kill some time, I played with my Block Breaker Deluxe. After playing the game, when I want to submit my points to N-Gage, and if the application cant detect my home wireless network, it will automatically use my alternative access point. In this case it is my 3G Data Connection. All is done seamlessly without any irritating popup. I check my log after my points is sent and I found out that it only sent 35KB which is the file size of 1 MMS.
My Friends Tab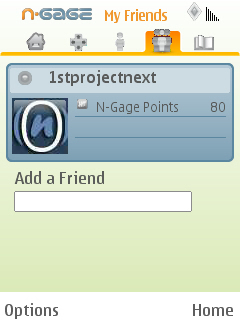 This tab will show all your friends you have on N-Gage as well as being able to add new friends. I added quite a few other beta testers, but apparently either they did not use N-Gage at all or they did not approve the request.
Showroom Tab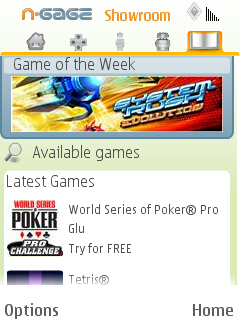 From this tab, you are able to see all the games that are available for N-Gage. You can download the trial version and played it for a while or if you like the game, you can always purchase it from here.
Conclusion
I did not play with N-Gage Classic or N-Gage QD before as the design of the phone looks ugly and bulky. But since N-Gage is now platform based, it definitely can reach out to greater audiences. As long as the price is reasonable and the game is of high quality, it will be a success.
When I surveyed my friends, they said they will not pay US$20.00 for mobile phone games. Pricing is a very tricky issue here.
Links