I have been so busy with my school lately, despite having a 1 week holiday last week. I used to complete my never ending assignments. It seems that every week, there is an assignment due and it is all report writing, and reporting writing is basically testing your Googling, paraphrasing and smoking skills. There is 0 programming for me this semester and perhaps the next semester as well.
I have not been going to the movies for about 1 month or more!!! But anyway, time flies, half the semester has gone. 10 more weeks till end of exams and then I can enjoy my Taiwan trip!
Out of topic, I would like to show off my iPhone 3G Springboard!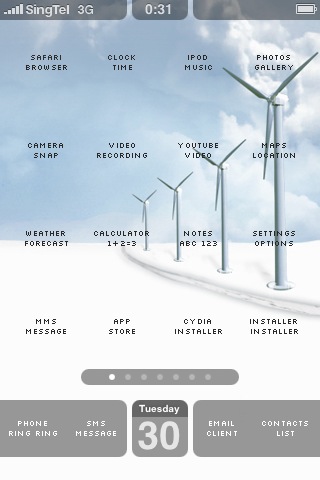 I have Jailbroken it using Windows QuickPwn 2.1 in less than 10 minutes.
The theme is based on Damino by Anjuna, the wallpaper is Seasons – Winter by Kol and the font is Silkscreen by Kottke.
This theme requires WinterBoard application and Five Icon Dock modification, both by Saurik.