I was invited to a Intel/Dell Swarm event yesterday at Geek Terminal. Dell Swarm is a very nice idea and the idea was came out by Dell Singapore and hence Singapore is the first country to be launching it on 5th May 2009 (tentatively). Dell business model has always been unique and most polytechnics and universities around the world always use Dell business model and supply chain as case study for the students. Dell Swarm brought a whole new meaning in buying things online.
When we all want to buy Dell products, the first thing that comes to our mind will be, Dell Singapore Website. You can also email or call to make your Dell purchases. This is a 1 to 1 buying directly from Dell. What if you want to gather more of your friends to buy together in bulk to enjoy greater discounts? That is Dell Swarm for you. Dell Swam allows you and your friends (up to 15 people) to buy Dell products in a Swarm together and enjoy the bulk discount. Each person is allowed to buy up to 3 units of any Dell products. You can share the Swarm via social networking sites like Facebook and ask you friends to join the buying spree. Each swarm will last for 72 hours or when the people in the swarm reaches 15.
Just an example, if the Dell Inspiron Mini 12 is priced at $899, the first person who join the Swarm will be paying about $859 for it, but if that person managed to get another 14 people to buy it, each of them will just pay $809, that is like $90 off the retail price directly.
Dell Swarm is targeted to go live on 5th May 2009, the URL will be http://dellswarm.com/sg. At the moment it is still undergo testing and everything on the website are just for illustration purposes and the prices there are only a placeholder. You may need a username and password to view the site. The username is "dellswarm" and password is "buysharesave" (without the quotes).
You can follow Dell Swarm on Twitter @dellswarmsg and by using hashtag #dellswarm.
At the moment, only Dell laptops and netbooks will be in the Swarm. I have suggested to them to include monitors as well. Do note that unlike the Dell Singapore Website which allows you to customize your laptops and netbooks, the laptops and netbooks configurations in Dell Swarm are fixed and hence not customizable.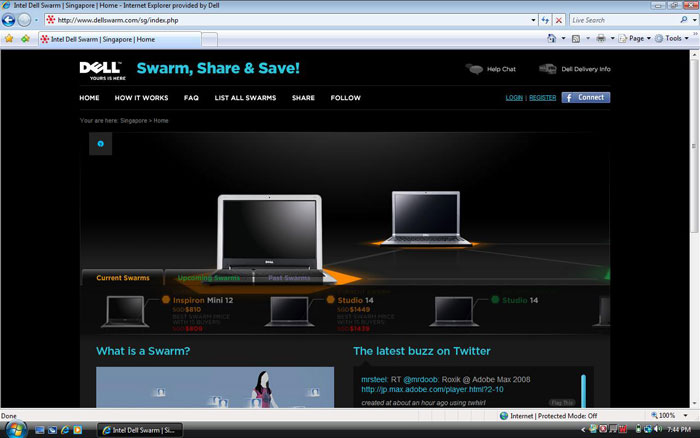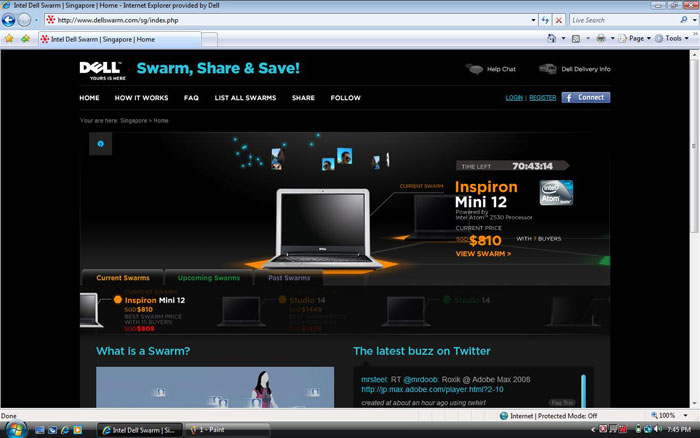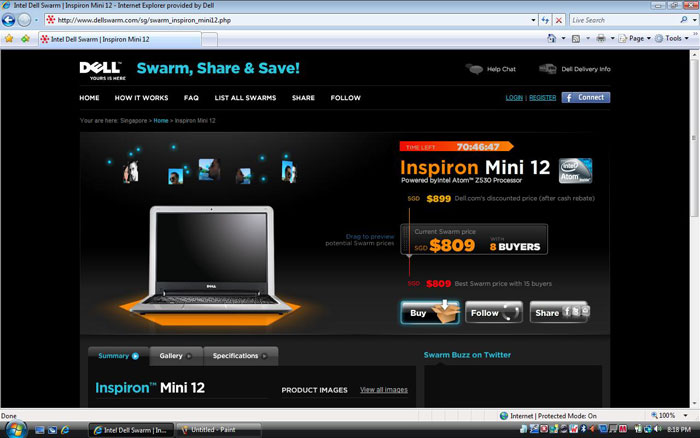 Click on the Read More link for frequently asked questions or click here for the Dell Swarm gallery that I uploaded to Facebook.About Dell Swarm
What is a Swarm?
A Swarm is a group that forms to buy selected Dell laptops powered by the latest Intel® processors for less. How it works, in 3 simple steps:

Swarm: Be the first to buy to get the discounts going, or join the Swarm after to bring the price down further.
Share: Tell your friends about Dell Swarm, the new way of saving on the latest Dell laptops. You can do this via Facebook, Twitter, Social sharing or simply email.
Save: Everyone gets to enjoy the final price once the Swarm's time limit or its maximum number of buyers is reached!

How much of a discount will I get?
With Dell Swarm, you will pay less than the best prices offered on dell.com.sg. And that's for current models equipped with the latest Intel® processors. The final price though, depends on you. For the more buyers there are, when the Swarm ends, the less you pay!
Which specific products will be offered on Dell Swarm?
The following products will be offered on the 1st week (5th May 2009):

Inspiron Mini 12
There's a new kid in town. One that's super thin and ultra-portable – the Inspiron Mini 12, weighing in at less than 1.1″ thick and 1.236 kg.

Intel Atom TM Z530 Processor
Vibrant 12.1″ display
Advanced wireless options for superior mobility
Dynamic and customisable user interface

Dell Studio 14
Get creative and connected with this personalised, Hi-Def, 14.1″ widescreen laptop with rich multimedia features.

Powered by Intel Core 2 Duo processor T6600 for compact performance
Experience intuitive interaction with multimedia keys, which illuminate when touched.
Sleek and Stylish

Products on offer the 2nd week (12th May 2009):

Dell Studio XPS M1340
Blending power with elegance, the Studio XPS 1340 is designed to deliver the ultimate mobile laptop experience.

The latest Intel Core 2 Duo processors P8600 for blazing fast performance
Premium design with genuine leather accents, anodised aluminum, edge-to-edge display and backlit keyboard
Optional NVIDIA Hybrid SLI graphics deliver incredibly lifelike videos, movies and gaming
Watch all your DVD movies in brilliant HD with automated hi-def up-conversion

Dell Studio 14
Get creative and connected with this personalised, Hi-Def, 14.1″ widescreen laptop with rich multimedia features.

Powered by Intel Core 2 Duo processor T6400 for compact performance
Experience intuitive interaction with multimedia keys, which illuminate when touched.
Sleek and Stylish

How long does each Swarm last for?
Two Swarms open every Tuesday, right after Monday midnight, and end on Thursday midnight. The Swarm ends when it reaches the maximum number of 15 buyers or a time limit of 72 hours. To ensure that you enjoy the optimal discount, just get a total of 15 buyers before the time's up!
Is Dell Swarm only available in Singapore?
Yes. You must be located in Singapore to buy on dellswarm.com. People outside of Singapore are not permitted to purchase laptops from this website. Dellswarm may soon be available in other regions.
Functions On Dell Swarm
Buy
When you're ready to join the Swarm, click on the Buy button, register and Dell will contact you once the Swarm ends and the price is finalised. This happens once the limit of 15 buyers or 72 hours is reached.
Follow
If you're not ready to buy yet, you can choose to Follow a Swarm and get updates on its current price via email and/or SMS. Once it reaches the price you want, you can then join the Swarm to buy it. If you don't see a product you like, you can check out our upcoming Swarms by following them, which arrive every Tuesday. Or opt for SMS updates on what's coming next. Simply click the follow button on the website.
Share
Tell others about Dell Swarm, so they too can buy in a group and save. If they join your Swarm, your savings will get even greater! Here are three ways for you to share.

Option 1: Share with friends and followers – Use Facebook or Twitter to share with everyone how you're saving on a brand new laptop by joining a Dell Swarm – and how they can do so too.
Option 2: Social sharing – Use Digg, del.icio.us and other tools to bookmark your Swarm so others know how they can save by joining one.
Option 3: Email it – Drop him or her an email.

What does the message box on dellswarm do?
Type your message regarding Dell Swarm into the Latest Buzz box, and it will appear both on the dellswarm message board and on the dellswarmsg Twitter page.
I have a Facebook account. How can I use it to share my Swarm?
Facebook Connect seamlessly connects your Facebook account with dellswarm.com, giving you access to your network in several different ways.

Publish stories – leave a message about Dell Swarm
Invite Friends – invite your friends to join you on dellswarm.com
Or simply join the dellswarm Facebook group and tell everyone how you are a big fan of our great deals!
Others
Can I opt out of a Swarm after I joined?
By joining a Swarm, you are agreeing to buy the item at the price you see when joining a Swarm so your purchase is not retractable. However, rest assured that you are paying a lower price than if you were to buy on dell.com. You enjoy greater savings on top of the discounted price at the start of the Swarm if there are more buyers. How much you save really depends on how many buyers there are at the end of the Swarm.
Can I join a Swarm after it has ended?
Unfortunately, no, because Swarms are exclusive group buys with special prices for those who join. However you can definitely follow the next Swarms and join when they open. Or you can send us an enquiry and Dell will get back to you as soon as we can.
How do I stop getting email or SMS updates on Swarms?
The option to unsubscribe can be found on the Swarm alert email so click on the link and you will not receive Swarm email updates. To unsubscribe to SMS updates on Swarms, simply reply <unsub> to the SMS update.
Can I pay for an item in a Swarm before the maximum 15 buyers or time limit of 72 hours is reached?
You only pay for your purchase at the end of a Swarm. If you wish to get your Dell laptop powered by the latest Intel processor earlier but at a higher price, you can buy it at dell.com. Our suggestion is for you to join a Swarm and enjoy the lowest price at the end of the session!
Will I enjoy further discounts on my next Swarm buy if I joined and bought products in previous Swarms?
Swarm buyers enjoy the same discount whether you have bought in a Swarm or not. But you can always gather your friends to join your Swarms for greater savings.
Will I get more discounts if I recommend friends to join than if I were to join a Swarm with strangers?
We don't differentiate between friends you already know or those you haven't met so the discount you enjoy depends just on the number of buyers at the end of a Swarm.
When will I get my computer after I pay for my Swarm purchase?
Once the Swarm ends and the final price is confirmed, you will receive a call from Dell.com to confirm your order and delivery. Your order will reach you in 5 to 7 working days after that. However, you can track your order anytime you like with the order reference number, by calling 1800-394-7476 or going to dell.com.
Are there any other ways I can find help on my Swarm purchase?
Find some of the commonly asked questions in the FAQ section in dellswarm.com or you can also see 'How it Works' to understand the mechanics of the group buys and how you can save. You can also get help using Dell Chat. Get answers from our Dell Product Advisors using instant messaging anytime you want.