Sony ICF-C1IPMK2
I have been eying on the Sony's ICF-C1IPMK2 recently because it is quite affordable. The retail price is S$179 but challenger is selling it at S$159 with member discount. The ICF-C1IPMK2 is a iPod/iPhone Dock Clock Radio.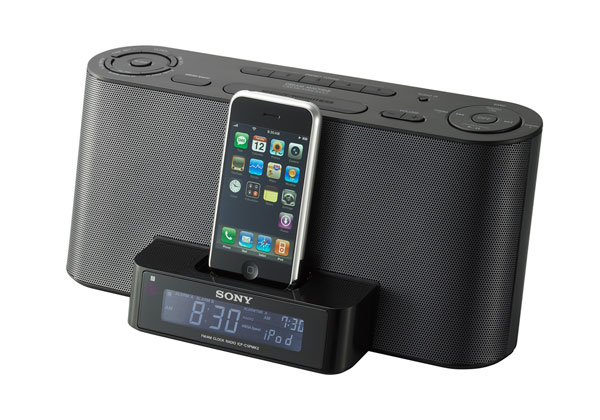 Official Page: Sony Singapore: ICF-C1IPMK2
Review: iLounge: Sony ICF-C1iPMK2 Speaker Dock / Clock Radio for iPod + iPhone
Sony ICF-CL75iP
The recently announced Sony's ICF-CL75iP made me think twice about getting the ICF-C1IPMK2 as the ICF-CL75iP has much better features and it is only US$50 more expensive!
Alarm clocks, digital photo frames, and iPod/iPhone docks are usually bland and simple. Only very recently have we seen style truly grace these products. However, when one of my contacts forwarded me information about the upcoming ICF-CL75iP, I couldn't believe what I was looking at. This is probably the greatest looking fusion of all of the aforementioned devices that I've ever seen. This is the most advanced Dream Machine ever produced by Sony to date – it has a crisp 7 inch color WVGA (800 x 480) LCD, 1GB of built-in storage, and a retractable iPod/iPhone dock. What's truly outstanding is that the photos on the screen can either be pulled from your iPod/iPhone, or loaded onto the unit via USB. You can also store and play music (mp3, WMA), and movies (MP4, Motion JPEG and AVI) on the device. And in true Billy Mays fashion, wait, there's more – a FM/AM radio (with 39 total presets), and the option to either wake up via radio, iPod/iPhone, nature sounds (Sea Waves, Birds, Rain, Brook, Under the Sea), or through a 10 second voice recording.
It is retailing for US$150 = S$216.
But for ICF-C1IPMK2, it is retailing for US$99 (S$142) in the US, but in Singapore, it is retailing for S$179. So it is about S$30 for tax (I am assuming) so I think we can see the ICF-CL75iP retailing at S$249 and above.
Source: Sony's Upcoming ICF-CL75iP Is An Alarm Clock, Digital Frame, And Dock For Your iPod/iPhone