Shortly after receiving my Razer Abyssus, I received another Razer mouse, this time it is called the Razer Imperator. It was announced 16 days after the Razer Abyssus was announced, on the 26th November 2009. The Razer Imperator recommended retail price (RRP) is S$139.
Press Release
Razer Imperator Offers Comfort, Customization for All "Righties"
Carlsbad, Calif. – November 26, 2009 – Razer, the world's leading manufacturer of high-end precision gaming and lifestyle peripherals, today announced the Razer Imperator, a right-handed ergonomic mouse for palm and fingertip gamers. The Razer Imperator is designed with gaming-grade ergonomics in mind – contours and grooves specifically crafted to enhance aggressive mousing movements made by gamers.

"Ergonomics and control were the key objectives with this mouse" said Robert "Razerguy" Krakoff, president, Razer. "Your grip stays locked and planted no matter how often you lift and swipe your mouse while playing. One of the typical complaints of gamers is the difficulty in reaching the side or thumb buttons on a mouse. We have pioneered adjustable side buttons that slide and lock into your ideal thumb position. You just can't get a more custom tailored fit than the Razer Imperator."
Specifications
Ergonomic right-handed design
Adjustable side buttons
5600dpi Razer Precision 3.5G laser sensor
Razer Synapse on-board memory
Up to 200 inches per second / 50g acceleration
Seven independently programmable Hyperesponse buttons
1000Hz Ultrapolling / 1ms response rate
On-the-fly sensitivity adjustment
Zero-acoustic Ultraslick Teflon feet
Approximate size: 123(L) x 71(W) x 42(H)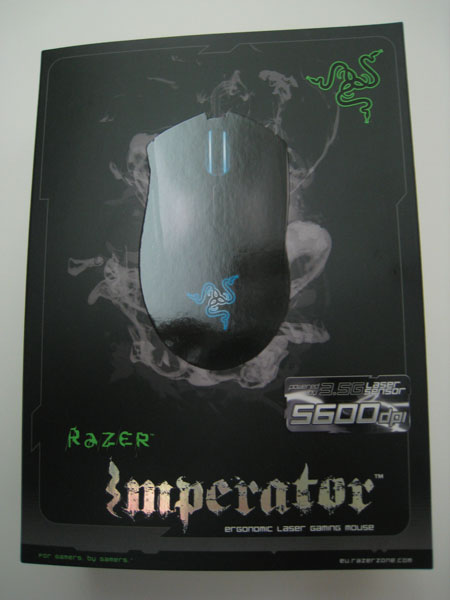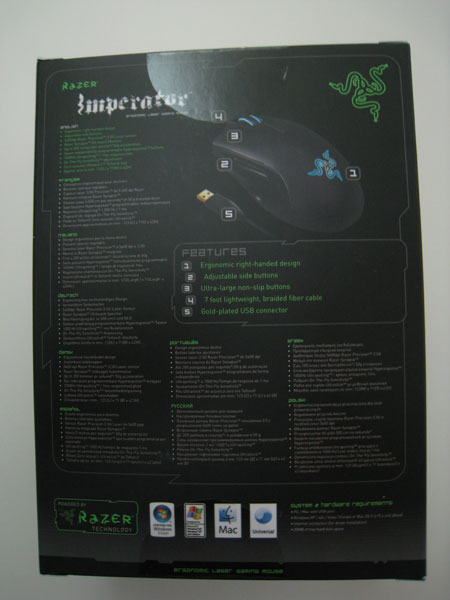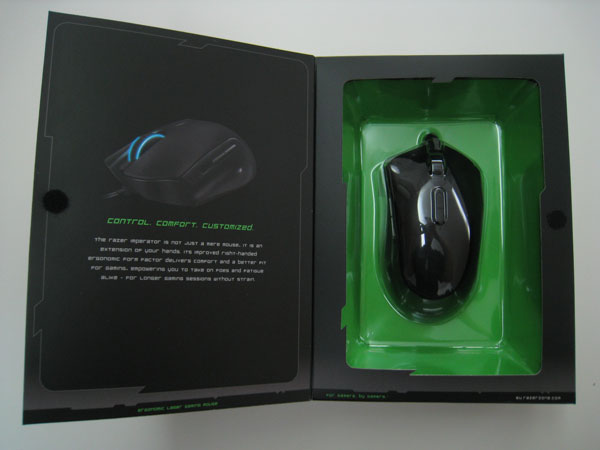 Packaging
The packaging is identical to the Razer Abyssus's packaging.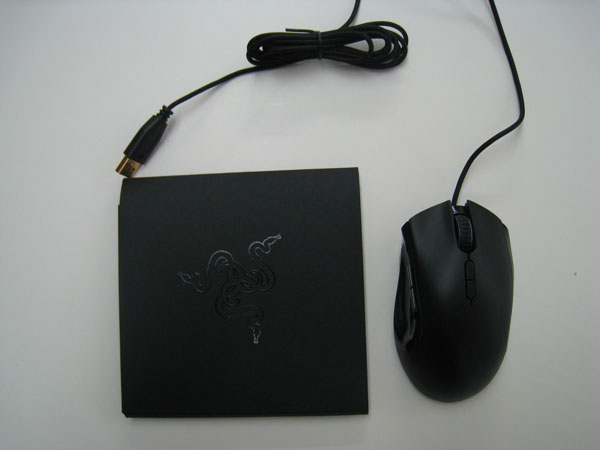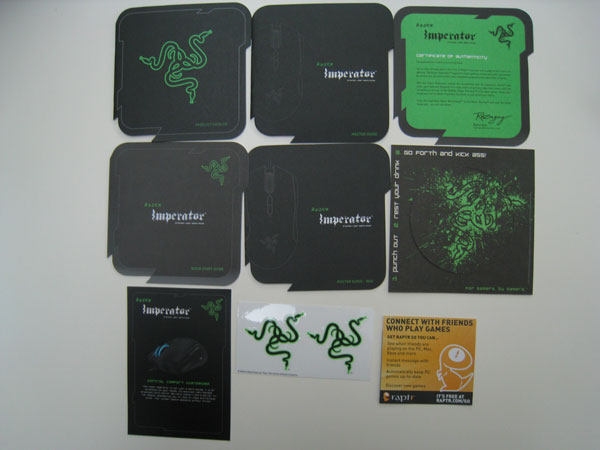 Drivers/Firmware
Since there is on-board memory in the mouse for storing settings similar to some Razer mouses like the Razer Copperhead, there is a need for a firmware to access this settings on the fly. The firmware I got out of the box is v1.01, but now there is v1.04, so head down to the Drivers/Firmware for Razer Imperator and download it. Everytime when you launch the Razer Imperator software, there will be a delay of about 10 seconds as it is reading your settings stored in your mouse.
Wire
The USB head is gold plated and the wire is protected by nylon instead of rubber as you can see from the picture below. Personally, I like the nylon protection over the rubber one as it looks more classy.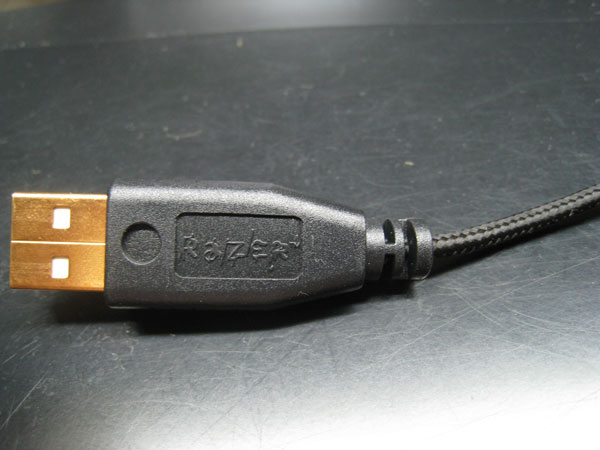 Buttons
There are a total of 7 buttons on the mouse, 2 on the left side which defaults to forward and backward action and the remaining 5 are on top. Apart from the usual 3 buttons (left click, scroll click and right click), the additional 2 buttons on top are defaulted to increase and decreasing the sensitivity on the fly.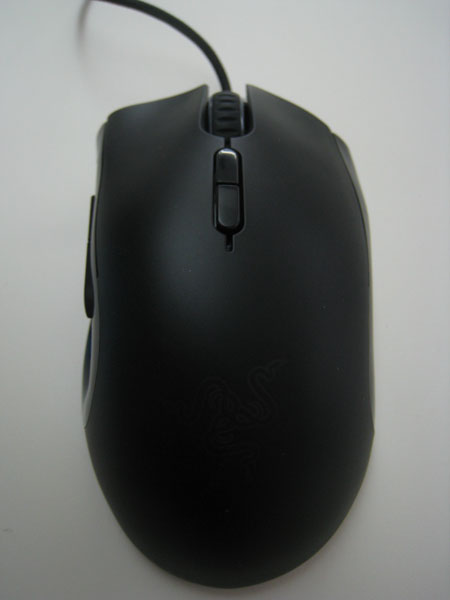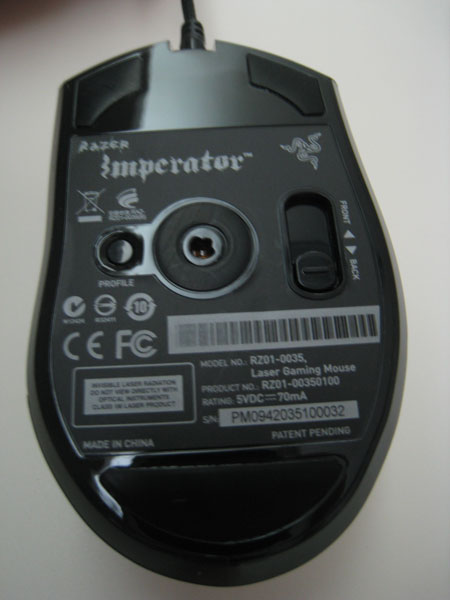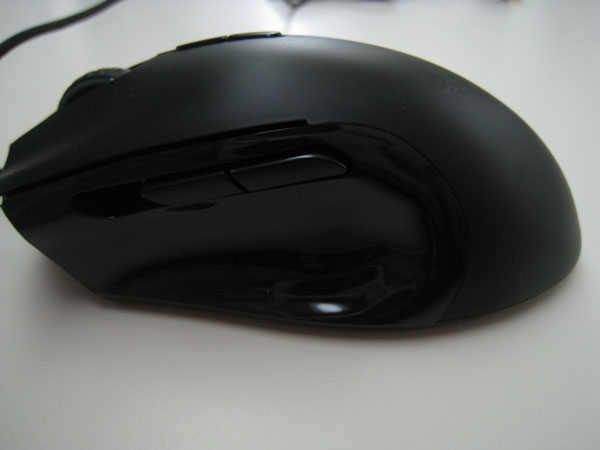 Unlike the Razer Abyssus which have two hardware toggles that allows you to switch your preferred dpi and polling rate. For the Razer Imperator, there is only one button and one toggle below. The button allows you to quickly cycle through your pre-defined profiles. You may ask how do you know what profile is being activated. In your settings page, all your profiles are numbered and when you do a switch of profile, the Razer Imperator will flash the corresponding number of times. For example, if Profile 3 is activated, the mouse will flash three times to indicate the profile you have been selected.
The toggle on the other hand allows you to move your side buttons front or back or anywhere in between which is rather innovative. Personally, I prefer to use the top portion of my thumb to press and hence I moved it to the top. For gamers who like to use their middle portion of the thumb to press, I think the back position is for you.
Lighted Logo
The Razer logo glows and there is light along the side of the scroll wheel which turns out to be pretty nice. The scroll wheel of my Razer DeathAdder is lighted as a whole. If you dislike the lights (I don't see why anyone would hate it), you can disable it via the settings as well.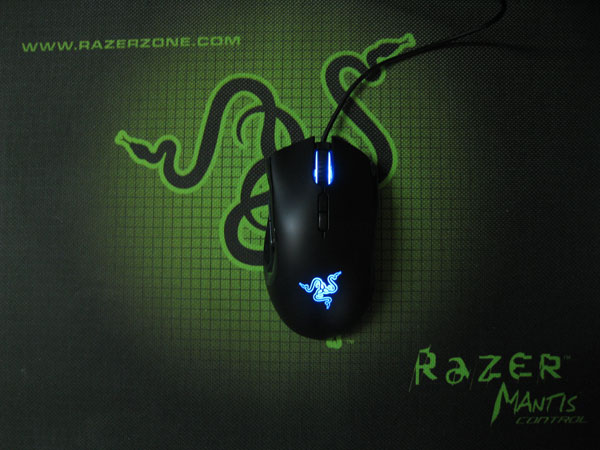 Software
Since this is a higher end mouse, there are more settings for you to choose when compared with the Razer Abyssus, such settings include Macros, Profiles and Lightings.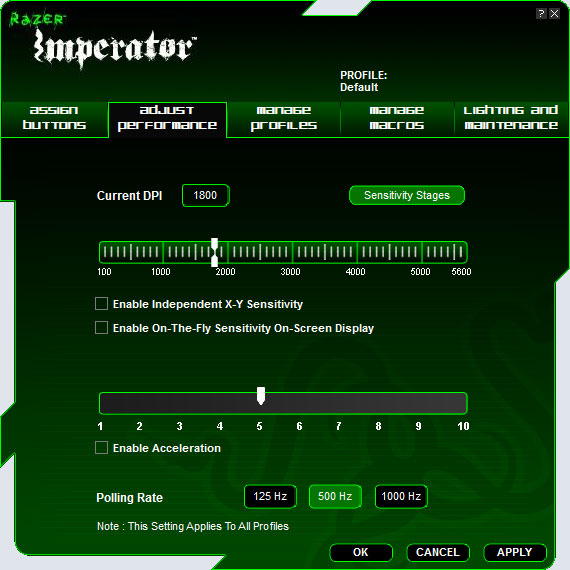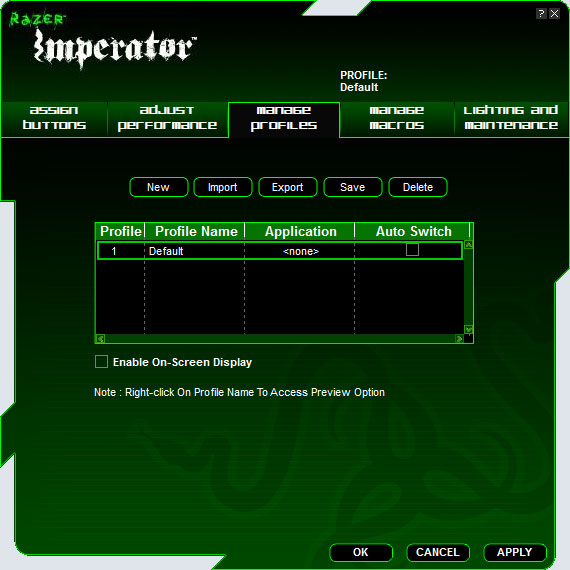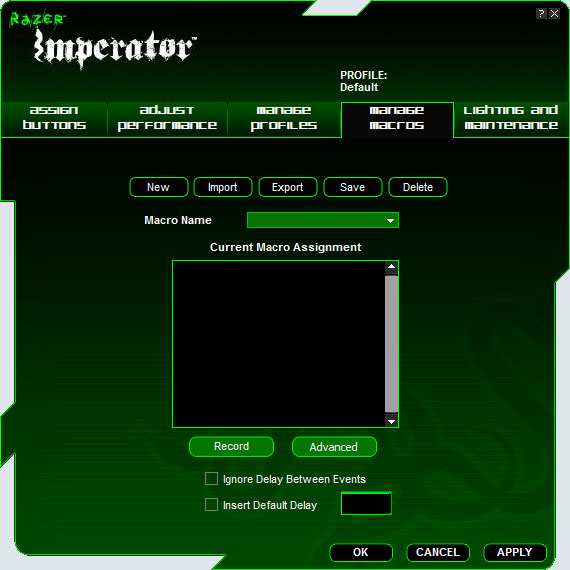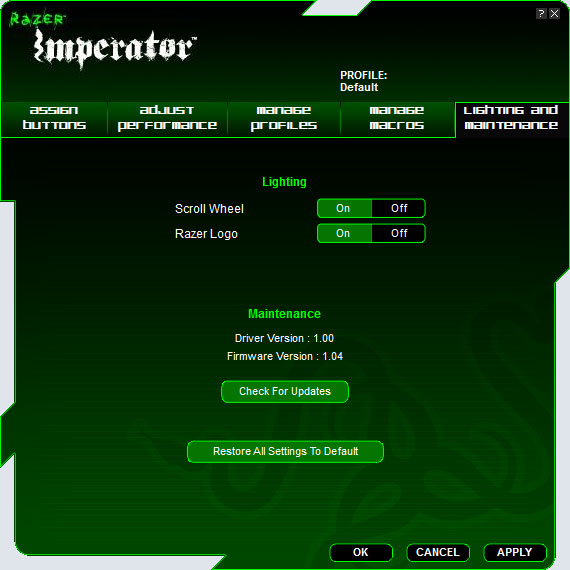 Conclusion
This mouse is a worthy successor to my Razer DeadthAdder, the Razer Imperator is now my primary mouse. The weight feels right and the height of the mouse is conformable for my right hand. In terms of sensitivity, it can goes up to 5,600dpi which is one of the highest I have seen so far. Not forgetting that it is powered by laser instead of the infrared sensor which allows more surface tracking power.
The adjustable side buttons is not really a selling point as I don't see myself adjusting it that often, I would think it is more of a hype rather than obtaining something practical out of it.
Since this mouse is designed for right handed person, this can be considered a con for left handed person. In that case, you might want to consider getting the Razer Abyssus instead.