Motorola DEXT with MOTOBLUR
The Motorola DEXT is the "social" phone from Motorola and another SingTel exclusive phone, similar to what INQ is doing with it's Mini 3G and Chat 3G. Motorola took a new approach and created its own service called MOTOBLUR. Just imagine Apple's MobileMe and MOTOBLUR is the Motorola's version. Similar to MobileMe where it can track your phone and remotely wipes its data, you can do that using MOTOBLUR as well. You can do so by logging into MyMOTOBLUR and from there you can "Locate Your Phone", "Delete Data" and even perform an OTA "Import Contacts" to your Motorola DEXT from a CSV file. Pretty impressive and best of all, this service is 100% FREE. I tried the "Locate Your Phone" feature and it works perfectly, I am pretty amazed!
Even though is my first time reviewing/playing with an Android mobile phone, I will not be touching any of the default Android stuff aka Google stuff. I shall be focusing on the enhancement Motorola did with Android. I would like to apologize first if some of the stuff I mention are part of Android instead of an enhancement by Motorola.
Specifications
OS: Android 1.5 (Cupcake)
Input: QWERTY slider with Touch Screen
Display: 320 x 480 pixels, 187 DPI; 3.1 inch HVGA screen
Battery: 1420 mAh lithium polymer
Standby Time: up to 325 hrs / 13.5 days
Talk Time: up to 360 min / 6 hrs
Camera: 5.0MP with Auto Focus
Bluetooth: 2.0+EDR, stereo Bluetooth
WiFi: 802.11 b,g
Headset jack: 3.5mm audio jack
Connector Type: MicroUSB 2.0 high-speed
Weight: 163g
Size: 114mm (H) x 58mm (W) x 15.6mm (D)
Accelerometer and proximity sensor
Network: WCDMA 900/1700/2100, GSM 850/900/1800/1900, HSDPA 7.2 Mbps (Category 7/8), EDGE, GPRS Class 12, AGPS
Built-in Memory: 256MB + 2GB MicroSD bundled
Removable Memory: MicroSD up to 32GB
For more detailed specifications, check out the Official Motorola DEXT Specifications Page.
Packaging Contents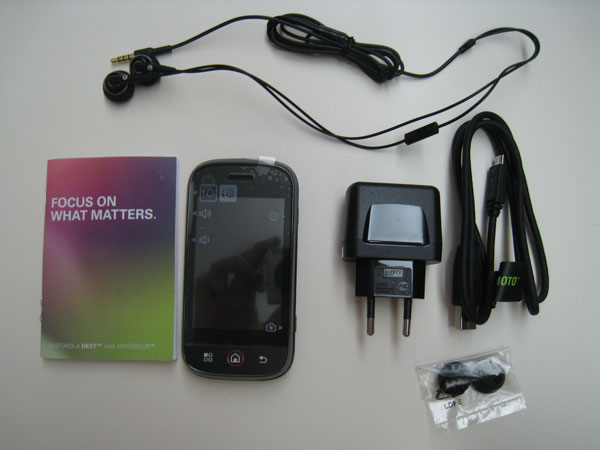 Phone
Earpiece
Manual
USB Cable
Charger Head
Spare Earpiece Sponge Cover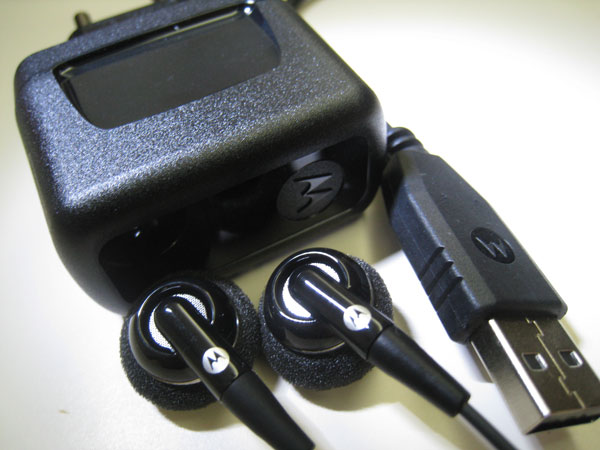 You can find Motorola logos almost on every item.
The charger head is simple, small and compact, similar to that of the charger from Apple's iPhone 3GS.
Motorola DEXT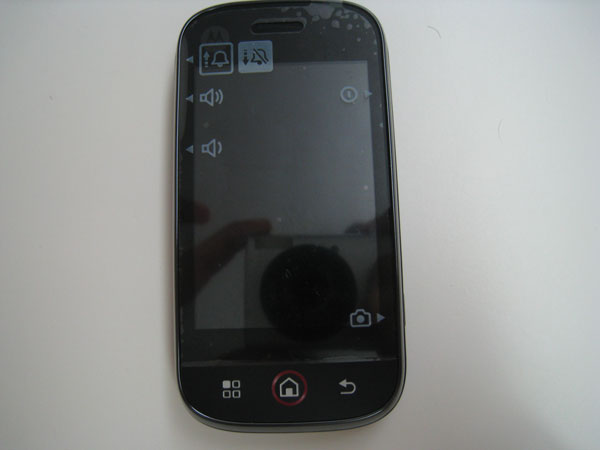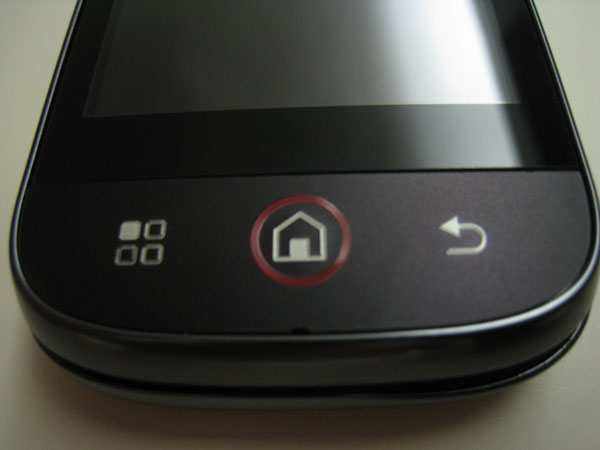 There are three hardware buttons at the front. First button is the Settings button, followed by the Home button and lastly the Back button. The design is not only imprinted but also embossed and hence you can feel each (similar to braille).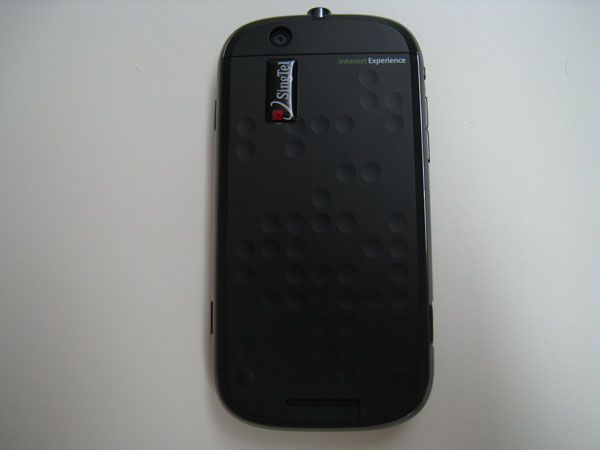 There are some circular deboss on the back which makes it easier to hold and adds to the overall design of the phone.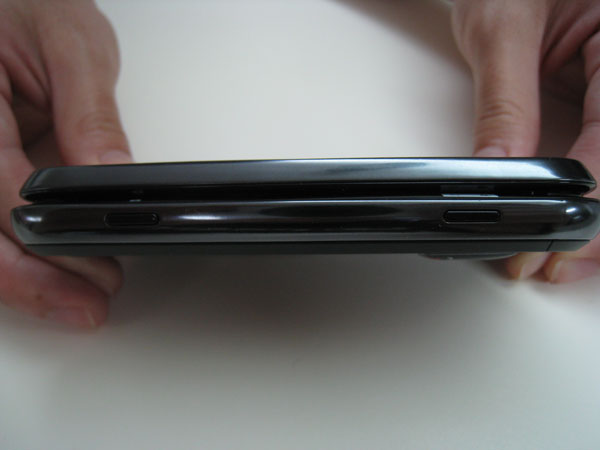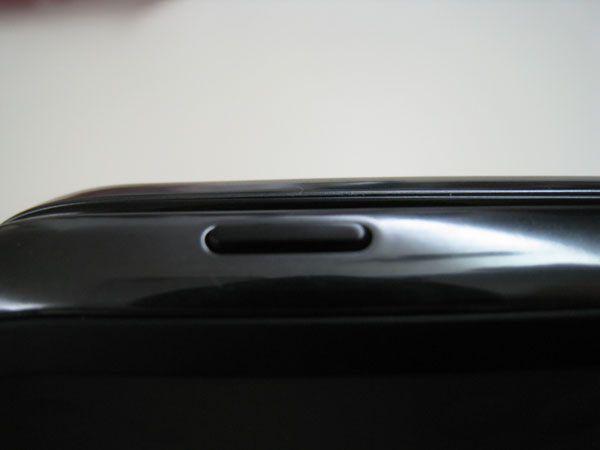 There are two buttons on the right side, one right at the top and one right at the bottom. The top button is used for locking the phone and switching on/off the phone. The button at the bottom is used as a shortcut button to launch the Camera App and use to take photographs when in the Camera app.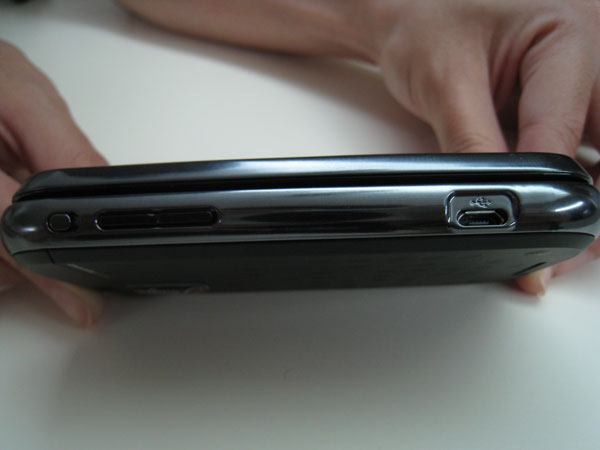 At the top, the first toggle is a ringer switch which allows you to silent your phone by moving it down, similar to the iPhone. The next two buttons are for adjusting the volume of the ringer. The port at the bottom is for the MicroUSB connector.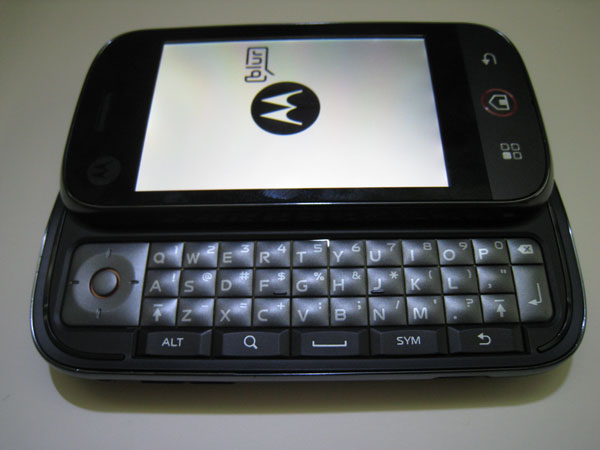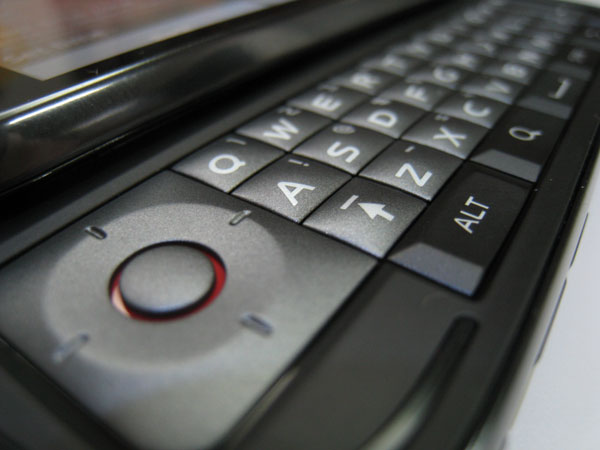 There is a sliding full QWERTY keypad and the tactile feedback of each key is pretty good. Just want to highlight that I got no problem pressing the top row of keys despite my fat thumbs, I know some phones have this issue because the keys are placed too closed to the top edge.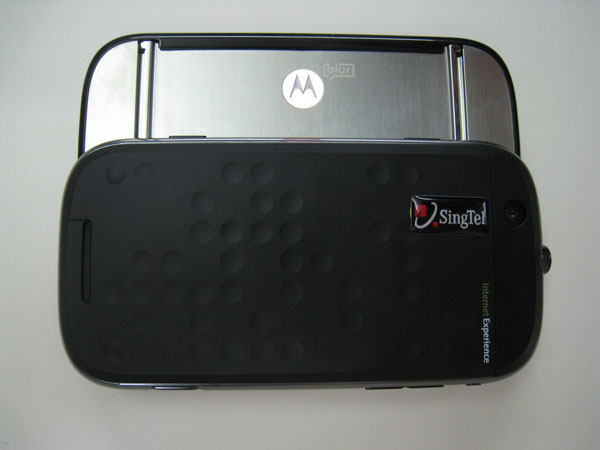 You can see the Motorola logo being lighted up when the phone is switched on, similar to Apple's logo on the MacBooks.
MOTOBLUR
After creating an account with MOTOBLUR, the next step is to setup your services.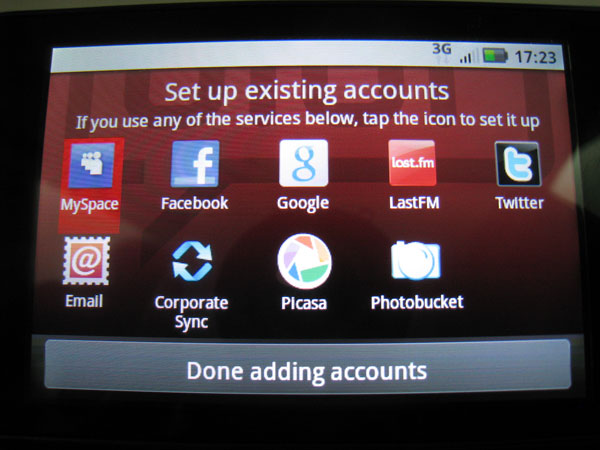 MOTOBLUR supports the following nine services:
MySpace
Facebook
Google
LastFM
Twitter
Email
Corporate Sync
Picasa
PhotoBuket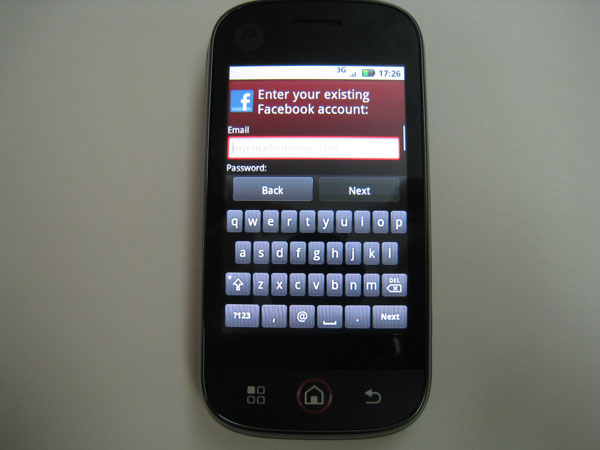 Setting up these services are pretty straight forward, just key in your username and password and you are good to go. Similarly for email, MOTOBLUR will try to make a smart guess of your IMAP/POP/SMTP settings. I tested the Facebook, Google, Twitter and Email services and only the Email service allows you to have more than 1 email account. In another words, you cannot have more than 1 Twitter, Facebook or Google services in your phone. These days, a handful of people have 2 Twitter accounts, so I think it would be good to at least support multiple Twitter accounts. Hope we can see this feature in future software updates.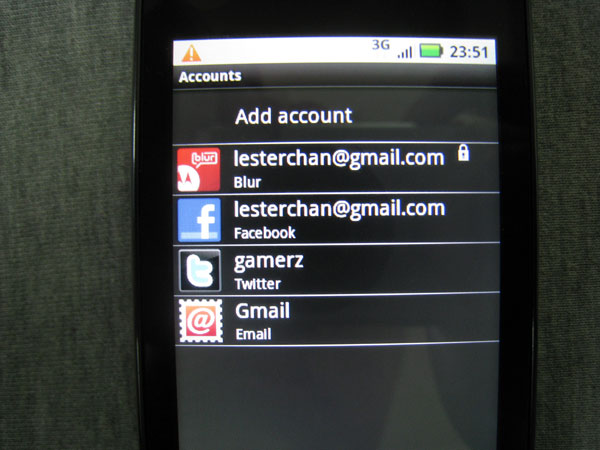 You can choose to add more services anytime by going into the MOTOBLUR's Accounts App.
Android Widgets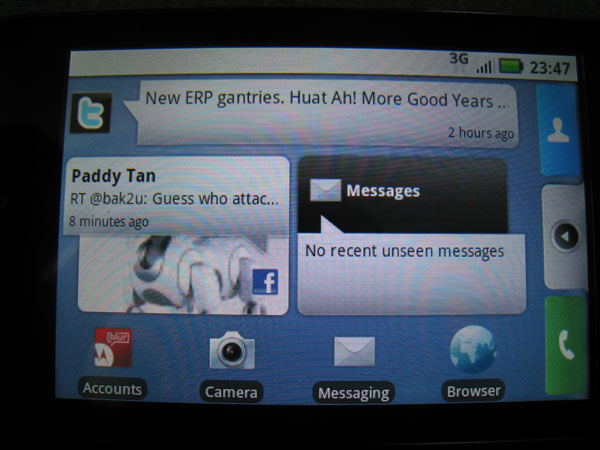 MOTOBLUR comes with five widgets in the DEXT:
Social Status
Happenings
Messages
News
Weather
Social Status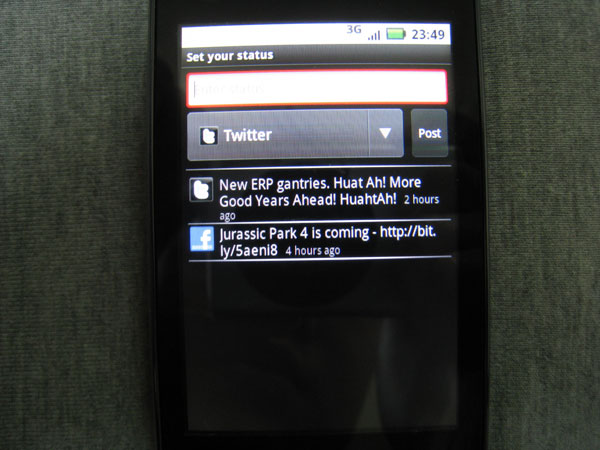 The Social Status Widget displays your current status update. What it does is pretty straight forward. Tapping on it will open up the Social Status App and it will allow you to post your status update to either Facebook or Twitter or to All Services. For some reasons, it only displays the latest status update from each service which is rather annoying.
Happenings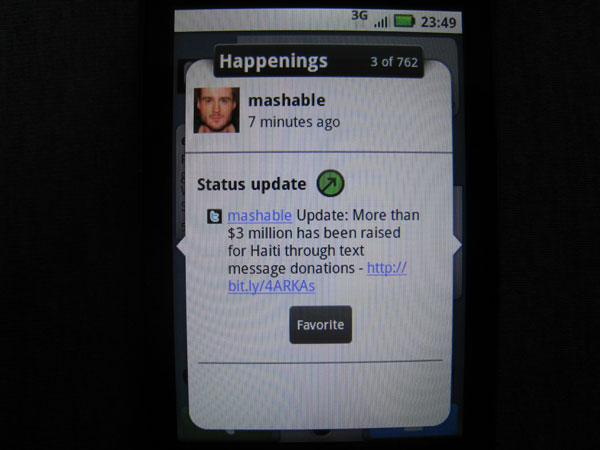 Happenings Widget displays your friends feed in Facebook and status updates of the people you are following in Twitter. There is a small icon at the bottom right hand of the widget which tells you which service is the update coming from and an avatar or Facebook profile picture of your friend posting the update.
Tapping on it will make the widget popup with more details on it. For Twitter updates, it allows you to favorite the tweet, but there are no options for you to @reply to the tweet or retweet it. Perhaps it would be good if you can @reply, retweet and even direct message your friend. For Faceboook updates, you can view comments associated with the update and even post a comment straight from the popup window.
Clicking on the Diagonal arrow will open up the Happenings App. For the Facebook service, it will display more information like pictures in the photo albums that your friend had uploaded. For Twitter service, it will allow you to @reply to your friend but you still can't retweet the tweet or direct message your friend.
I still think the Happenings Widget have room for more improvements. One thing I dislike about it, is not being able to filter the updates from my services in the widget settings. It just lump everything together. I can't filter by Twitter or Facebook updates which is irritating. However once you open up the Happenings App, you can press the Settings key and set which services to show.
There should be an option to let user choose how often he want his updates, it is being defaulted to 15 minutes, which is way way too long. I think 5 minutes would be good.
Messages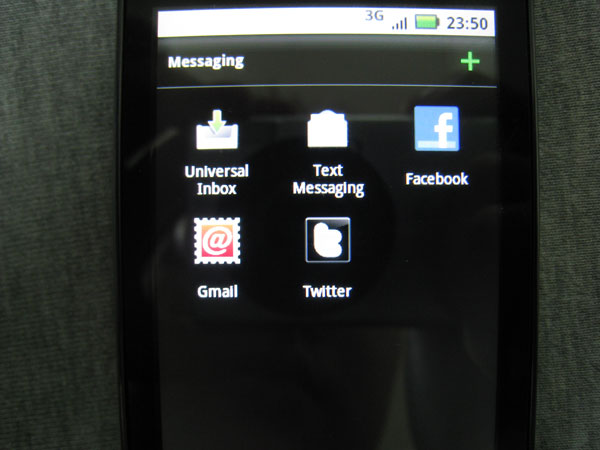 Messages Widget works somewhat similar to that of the Happenings Widget, in terms of design, but the placement is inverted. The avatar is displayed first before the message. If you got any new direct or private messages from Twitter or Facebook, you can reply directly reply from the widget. But once you click close, the message is being marked as read and the only way to access it is via the Messaging App.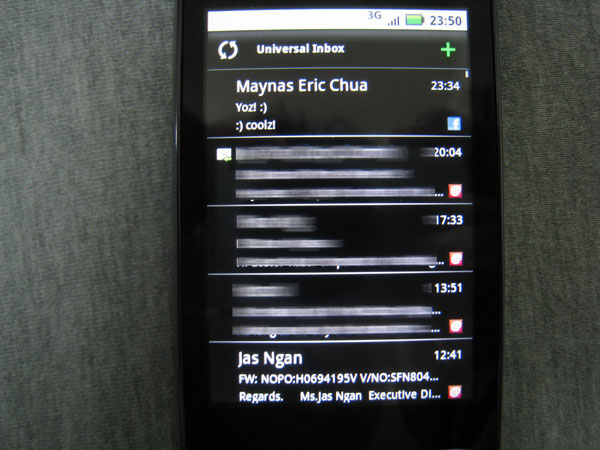 The Messaging App allows you to check all your messages in just one place. Emails, Facebook private messages, Twitter direct messages, SMSs, etc. Once you opened up the Messaging App, you will see the Universal Inbox icon, Text Messaging icon and the icons of all your services which you have setup. The Universal Inbox aggregates all your messages and emails into a single view allow you to reply or delete them. If you only want to view the messages from a specific service, lets say Facebook, just click on the Facebook icon.
You can set which service messages to be included in the Universal Inbox. The ability to filter your service messages in the Universal Inbox would be a good addition instead of exiting the Universal Inbox and tapping on the respective service icon to view it's messages.
News
News Widget allows you to display RSS feed on your homescreen. There are two ways you can enter the feed. One is by the direct URL to the RSS feed and the other is by typing in the website URL and the widget will automatically determine the RSS feed for you. I would say the second way is pretty good to have.
Weather
Weather Widget is simple and no frills, it gets the weather data from AccuWeather.com. I wish it has better design and bigger just like the way HTC does it.
Contacts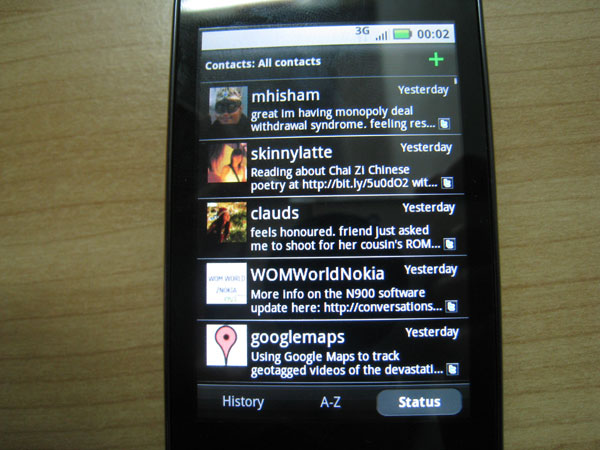 Similar to the Messaging App, MOTOBLUR also integrates your contacts from places like Google, Twitter and Facebook into the Contact Apps. There are three tabs at the bottom, History, A-Z and Status. History allows you to view your previous communication you had with your contacts and that includes Email, Facebook messages and Twitter Direct Messages. A-Z just simply list down all your contacts you have in the phone. Status allows you view the latest status updates of your contacts from Facebook or Twitter.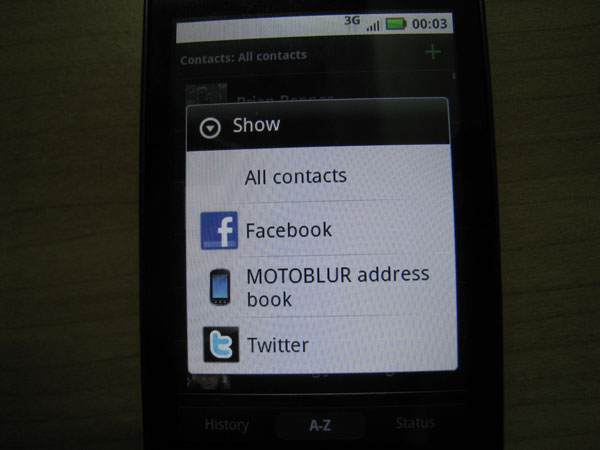 You can even filter your contacts based on services like Facebook or Twitter and even down to your Google Contact Groupings. Neat!
Camera
Despite the camera being a 5.0MP camera taking 2560×1920 pictures, I think the quality of the picture is pretty bad even when taking under full bright light conditions. There are a lot of noise in it. You can view the sample photo taken and judge it for yourself. In case you are wondering, there is no built-in LED flashlight.
Battery
The battery has a capacity of 1420 mAh, but similar to all smartphones these days, it cannot last a full day with heavy usage. So you have to be prepared to charge it everyday. The official specifications indicated that it can have 6 hrs of continuous talktime which is 1 hour more than the iPhone 3GS. I got about 11 hours of heavy usage playing with the phone without talking.
For the standby time, it is stated to last 325 hours. I managed to get about 300 hours by disabling all MOTOBLUR Apps so that there are no active background Internet connection going on and I only touch the phone once a day just to see check the uptime and battery level. For normal circumstances, mine lasted about 23 hours without touching the phone at all, but of course there are active Internet connections going on in the background from MOTOBLUR Apps, Facebook and Twitdroid.
After playing with it for about 30 minutes, the phone started to heat up and you can feel that it is very hot at the back. The reason why I mentioned this is because the heat seems to be greater than the average smartphones.
UI Walkthrough Video

Conclusion
The Motorola DEXT is good android phone to have if you are looking for a Android phone with a full QWERTY keypad. With the Android 2.1 update coming to Motorola DEXT, you can ensure that the phone will be future proof for the time being. But similar to all smartphones, the cons is always the battery, but for the DEXT an additional thing to watch out for will be the heat issues of the battery.
The MOTOBLUR is a very good alternative to Apple's MobileMe and best of all, it is a free service that comes together with your phone with no yearly subscription. I am still wondering why they use the word "blur", it seems inappropriate here. Despite the great MOTOBLUR platform, the widgets/applications which makes use of the MOTOBLUR platform, needs some improvement in terms of usability and additional features. But in the mean time, you can use the native Android Facebook Widget/App and for Twitter, the Twitdroid.
SingTel's mSocial VAS
SingTel will offer a newly created value-added service, mSocial, priced at S$5.35 per month for consumers to enjoy unlimited local mobile data using the MOTOBLUR platform. These include photo uploads, postings received and status updates on popular social networking sites, including Facebook and Twitter within the MOTOBLUR service platform.
mSocial includes 100MB of local data for all other internet surfing and email access. In addition, excess usage beyond 100MB is capped at S$30 per month, giving customers peace of mind when using Motorola DEXT. Also, as a launch promotion, mSocial is free to all customers who sign up for any 3G Flexi plans with the device.
Availability
Motorola DEXT is available from this Saturday, 23rd January 2010 onwards from as low as S$0 – S$248 (on any 3G Flexi Plans) or S$0 – S$348 (on SingTel's free incoming call plans) at any SingTel retail store or SingTel Exclusive Retailers, and at SingTel's online store.
Customers on free incoming call plans who sign up for mSocial will enjoy an additional S$50 discount.
Customers on SingTel's free incoming call plans (excluding 3G Flexi plans) can sign up for mSocial at a promotional price of S$5.35/month (usual price is S$9.90).
mSocial is free for customers who sign up for the latest enhanced 3G Flexi plans that come with 12GB of local data, starting from S$39/month, with local data usage capped at S$30.
Press Release: Motorola introduces a unique mobile experience with the launch of Motorola DEXT, exclusively with SingTel