The iRobot Braava Jet 240 is retailing for S$469 but during IT Show 2017, the price drops to S$399.
John Ackerman, who is the official distributor of iRobot products in Singapore has a booth at IT Show 2017. At the booth, they only accept Cash or NETS payment only. I ended up getting my Braava Jet 240 from their website as the discounted price is applicable online as well. Delivery is fixed price at S$18, or you can pick it up from their office at, Blk 34 Upper Cross Street #04-138 Singapore 050034.
I have been looking for a mopping robot a few weeks after using the iRobot Roomba 980.
I am very impressed with the Roomba 980. After having it, I have not been vacuuming the house. Just some ad-hoc vacuuming using my Dyson V8.
I still do mop the house once a week; I am hoping to get a mopping robot so that I don't even need to mop.
There are two models right now in the Braava line, Braava Jet 240 and Braava 380t.
Braava 380t is more expensive (S$598) as it covers a bigger mopping area. However, it is a rather old model, and you can't use the iRobot Home App with it. It has two mop modes, dry mop, and damp mop. You can use third-party disposable/reusable cleaning pads with it.
Braava Jet 240 covers a much smaller area, about 20sqm and it is compatible with iRobot Home App. It comes with three mop modes, dry mop, damp mop and wet mop. However, you can only use iRobot's disposable/reusable cleaning pads with it.
Unboxing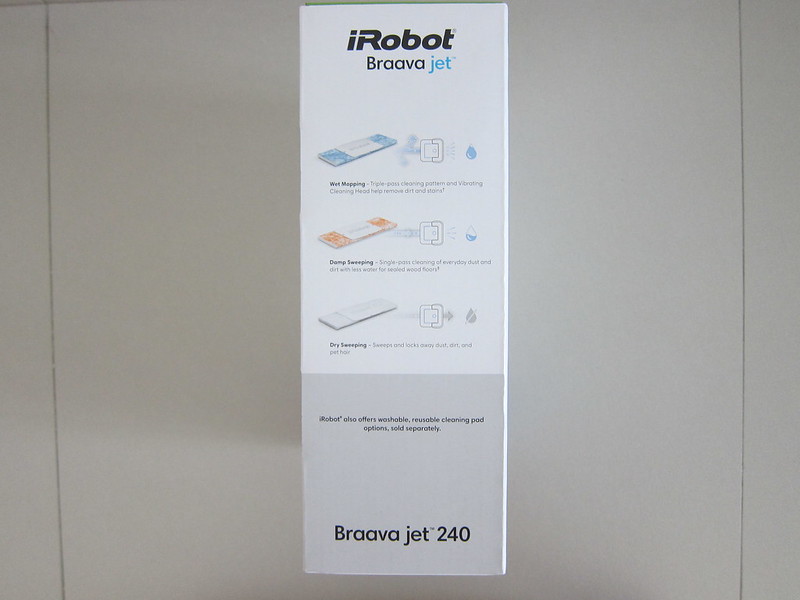 Cleaning Pads
The default packaging doesn't come with reusable cleaning pads, only disposal ones (two Wet Mopping Pads, two Damp Sweeping Pads, and two Dry Sweeping Pads).
You can get the reusable cleaning pads from John Ackerman, or from Amazon.
I got mine from Amazon, and it costs US$19.99 (S$28) for two whereas John Ackerman is selling two pieces for S$55. If you get it from Amazon, it doesn't ship to Singapore directly. Hence you need to ship it through a freight forwarder like HopShopGo. Even if you factor in freight charges, it will still be cheaper than getting it from John Ackerman.
Packaging Contents
1x iRobot Braava Jet 240
Lithium Ion Battery
Battery Charger
2x Wet Mopping Pads
2x Damp Sweeping Pads
2x Dry Sweeping Pads
Braava Jet 240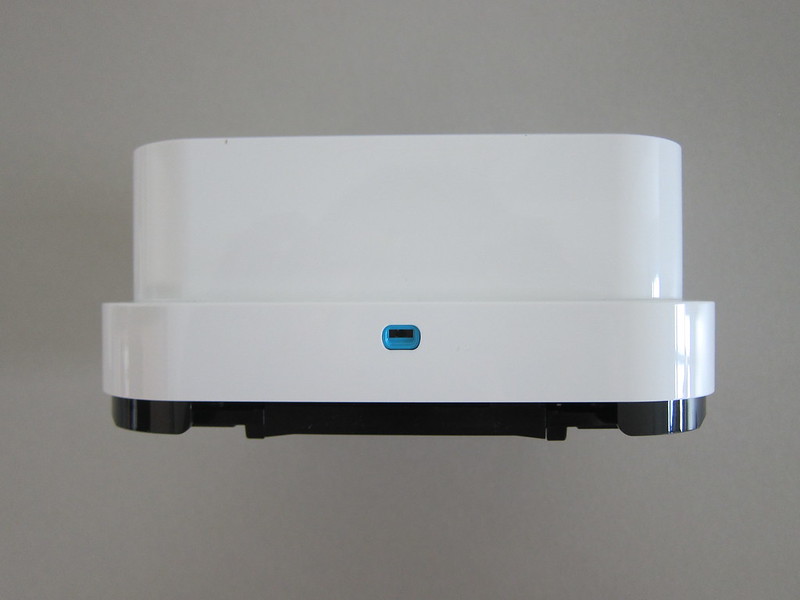 Cover Small Areas
Because of its small size, a single charge of the Braava Jet 240 can cover about 25sqm in damp or dry mode and 20sqm in wet mode. It takes about 2 hours to charge the battery fully.
My Roomba 980 reports that it vacuums a total of 55sqm in my house, so it will take three times to mop my entire house.
I split the mopping into three days. The first day will be all the rooms. The second day will be the living room and the third day will be the kitchen and service yard.
No Docking Station
Braava Jet 240 doesn't have a charging docking station. Instead, you have to manually remove the battery and place it in the battery charger to charge.
Since it doesn't dock, after cleaning, it will return close to the original position where you started the cleaning.
Limited iRobot Home App Support
The Braava Jet 240 has very limited iRobot Home App support. That is because it connects to the robot via Bluetooth instead of wi-fi. So you will get disconnected if you are out of the Bluetooth 10m range.
While the Braava Jet 240 is cleaning in the master bedroom, I was not able to connect to it when I was in the living room.
Because of the lack of wi-fi and docking support, it is missing a lot of useful features found in the Roomba 980. Features like scheduling, and Clean Map. Clean Map shows you a map of your house and areas in which your robot cleans.
After mopping the house, Braava Jet 240 doesn't report the size of the area being cleaned or the duration of the cleaning.
Based on my timing, it mops for close to two hours before the battery is empty. Do note that it also takes about two hours to charge the battery fully. So technically, you need to wait for four hours before using it again. That is the reason why I split my mopping into three days.
I hope iRobot will eventually come out with a mopping robot that is as good as the Roomba 980, large coverage and better compatible with iRobot Home App.