I received the iRobot Roomba 980 as a house warming gift from my Cousin Joanne.
The iRobot Roomba 980 is the highest end Roomba and is retailing for S$1,498.
iRobot Models
There are other models like the Roomba 880 which retails for S$1,298, the Roomba 650 which retails for S$798 and the lowest end model is the Roomba 630 which retails for S$698.
Besides Roomba, iRobot has another line of automated cleaning machines called the Braava. Braava mops the floor for you and is a good compliment to the Roomba. There are two models to the Braava. The Braava Jet 240 retails for S$469 while the Braava 380t retails for S$598.
Unboxing
Pacakaging Contents
1x iRobot Roomba 980
1x Home Base Charging Station
1x Power Cord
2x Dual-Mode Virtual Wall Barriers (batteries included)
1x Extra AeroForce High-Efficiency Filter
1x Extra Side Brush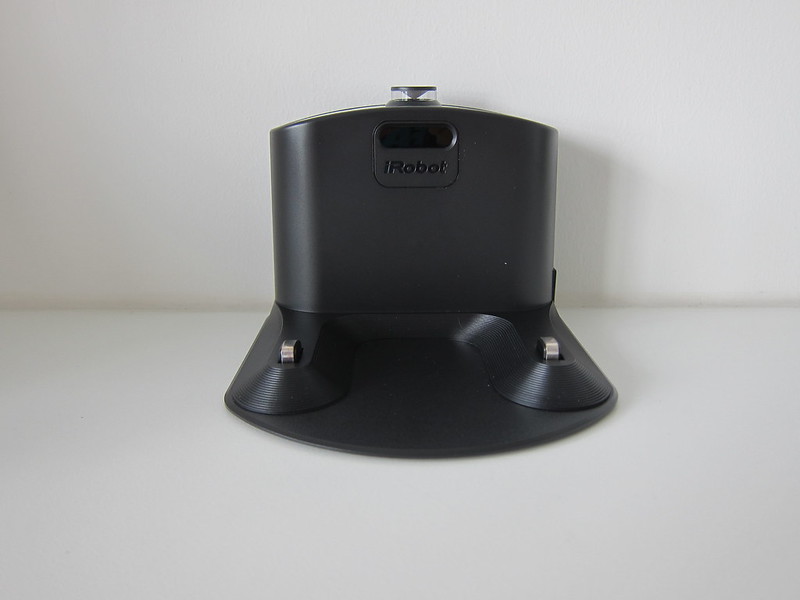 iRobot App
There is an iRobot app for iOS and Android but it is only compatible with models from the Roomba 900 series and Braava Jet.
At first I thought the app would be gimmicky, but actually, I find the app useful. The app allows me to easily setup scheduling, and it also shows my Roomba cleaning history. You can also control Roomba remotely since your Roomba has to be connected to your house's wi-fi network.
Using Roomba
My Roomba is scheduled to clean my house from Monday to Friday at 11 am. It takes about 80 minutes to clean my whole house minus the two toilets.
My house is 110sqm, and Roomba reported the area cleaned as 54sqm. I am guessing that is quite accurate considering that I excluded two toilets and I have cupboards and furniture.
The packaging contents include two Virtual Wall Barriers. I placed each of them at the entrance of my two toilets to prevent the Roomba from getting in.
You can get additional Virtual Wall Barriers from iRobot Singapore Service Center for S$60 each. Payment is by cash or NETS only.
Address: Blk 34 Upper Cross Street #04-138 Singapore 050034
Operating Hours:

Monday to Friday: 9:30am – 6:30pm
Saturday: 9:30am – 1:30pm
Sunday and Public Holiday: Closed

Telephone: +65 6532 3733
When I started using my Roomba for the first few times, I was like how can I verify that it works if I am not at home?
I know the Roomba did indeed move because I have motion sensors at home that alerts me when I am not at home. What I did was to take note of all the fallen hairs on the floor and see if it disappears after I came back from work.
The Roomba does a good job in cleaning your house in an automated way. But I am pretty sure it does miss a few spots like the edges and corners of the house.
When it comes to obstacles, I find the Roomba is not very smart in navigating around it. I guess there is a minimum height to determine if it should go over or go around it.
I make it a point to put my dining stools and chairs on the table to reduce the number of obstacles that my Roomba will encounter.
Roomba doesn't work well with bathroom mats. The very first time I scheduled my Roomba, it got stuck on my bathroom mat, and I have to manually move it back to its base after I got back from work. Since then, I always placed my bathroom mats within the toilet, and the Roomba will not be able to reach it due to the virtual wall barrier I have setup.
Till today, I have not manually asked my Roomba to clean. It is always being scheduled to run at 11 am every weekday. I empty the Roomba's bin once a week.
With regards to noise level, the Roomba is not as noisy as a standard vacuum cleaner. The noise level matches that of my Dyson V8 on normal power.
After Using Roomba
I used to vacuum my house thoroughly once every week using my Philips PowerPro FC8764 Bagless Vacuum Cleaner (2,100w) and ad-hoc vacuuming every two days using my Dyson V8 Motorhead Cordless Vacuum Cleaner.
With the Roomba 980, I don't find the need to do weekly vacuuming anymore. I just need to do some ad-hoc vacuuming now and then for spots that the Roomba misses.
Closing Thoughts
At S$1,498, the Roomba 980 is expensive, but personally, I think it is worth it.
I would say go straight for the Roomba 980 and don't bother considering the lower end models because they are not designed to clean your whole house due to their battery capacity and runtime. Save up and go for the highest end, because you will be using it almost every day.
I have not tried Samsung Robotic Powerbot Vacuum or LG Robot Vacuums yet, but from what I heard, iRobot is still the best when it comes to this category of vacuum cleaners.