Woke up at 10am today, left my house at 10.30am to Suntec City with my brother for the IT Show 2009. I decided to park at Marina Square instead of Suntec City to avoid jam at the carpark. Reach Marina Square before 11am, and still manage to eat McDonalds Breakfast.
After breakfast, immediately went to wait outside level 6 of the Suntec exhibition center. While waiting, there is this lady from MediaCorp Radio approaches us for interview. She talked to me in English first and then ask me whether I can do a Mandarin interview, I agreed since I got nothing to do. She ask some questions like what are you buying at the IT Show, how often you come to this type of fair and how much savings you can save. I am so handicapped in Mandarin. I have no idea how to translate laser, router, switch, wirless USB adapter to Mandarin!
Exactly at 12pm, the doors are opened and the security personnel got Zerg rushed! Went to the Ban Leong booth first as my brother wanted to take a look at Razor mouse as his is dying soon. As usual the promotion for Razer is nothing fantastic, I think you can get even cheaper outside for certain Razor products (eg: Lycosa Keyboard).
Went to the D-Link booth and asked if I buy above S$500 got discount, the sales guy said only if I pay cash he can give me 2% which I thought it is definitely not a good promotion at all. If I pay by credit card, I get free gifts as well as points! UOB is having some promotion, I think if you spend above a certain amount, they will give you some things free. I am aiming on the sure-win lucky dip if you spend more than S$850.
Damage at D-Link Booth
D-Link DIR-855: S$299
D-Link DGS-1008D: S$100
D-Link DWA-160: S$119
Total: S$518
After getting my networking stuffs, went to level 4 to Samsung booth to get my multifunction color laser printer. Saw Kelvin from Fuwell and Daniel's Samsung colleague which I met at BlogOut! 2009. Fuwell is selling Samsung LCD Monitors whereas Harvey Norman is selling the Samsung printers. Samsung printers come with trolley but pushing the trolley though the crowd is no easy task! The printer box is quite bulky whereas the printer is quite small itself. The price for the CLX-3175N is still the same but this time instead of giving Abalone (during Chinese New Year promotion), they are giving a free black toner and you are entitled to buy additional toners at 20% off. Pretty good steal I would say.
Wanted to pay by UOB for my printer and toner but it got rejected! My mom literally max out every credit card when she is in Japan as well as for the down payment of the BMW. So end up paying with HSBC and there goes my sure-win lucky dip. Instead I got a S$5 Starbucks voucher for spending above S$350 for my UOB card. I kinda like the lucky draw form in IT Show 2009, every S$100 spend entitled you for one lucky draw form. I don't really make an effort to get the lucky draw forms normally so I maybe a bit noob in this area. The lucky draw is carbonized, so you just have to write on 1 and it will be carbon copied to 4 other copies! Also the forms are short and sweet, just fill in your name, NRIC and contact number!
Damage at Samsung Booth
Samsung CLX-3175N: S$698
Samsung CLT-P409C: S$184 (Toner Value Pack)
Total: S$882
After buying all the stuffs that I set out to buy, we went home to put the stuff before my brother send me to school for my Statistics tutorial at 3pm to 4pm.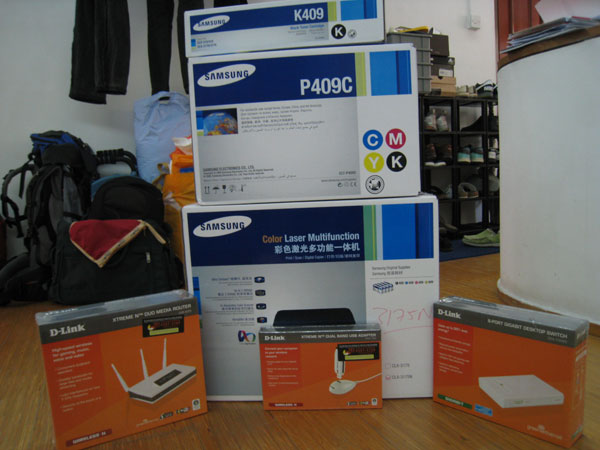 After my tutorial, went to the IT Show again with Kelvin and Hong Jun. Kelvin went there and got a ViewSonic 24″ monitor with built-in speakers and he helped his girlfriend to get an iPod Nano (Black). Saw Rayman : Raving Rabbids for Xbox 360 at the PlayCraft booth and I immediately bought it! Finally there is a "family" game on my Xbox 360 besides Bomberman to play with Li Xiang. I wished that Raving Rabbids 2 will also be out on Xbox 360, but I think that will not be the case.
Damage at Playcraft Booth
Rayman : Raving Rabbids (Xbox 360): S$49.90
Total: S$49.90
Saw from Hardware Zone that the Ovation booth are selling Western Digital internal harddisk, so went there to get 1TB Western Digital Green Power for Li Xiang, but it is out of stock and the stock will be coming in at about 7pm.
Instead of waiting there till 7pm, the three of us when for dinner at Marina Square food court. Hong Jun, my family and I Just love the curry noodle there! Met up with my secondary school friends there as well. When they came, Hong Jun and Kelvin went home.
After dinner, I went to the IT Show the third time within the same day and immediately went to buy Li Xiang harddisk. This time it is so crowded that I could not even make a call out when I am in the hall! It seems that the base station has been overloaded either that of my iPhone 3G sucked.
Li Xiang's Damage at Ovation Booth
Western Digital Green Power (1TB): S$165
Total: S$165
I injected S$1,449.90, Li Xiang injected S$165 and Kelvin injected about S$600+ into Singapore's economy!