City of Dreams is HP Digital Festival happening from 7th to 13th August 2009 at Ion Orchard Basement 4.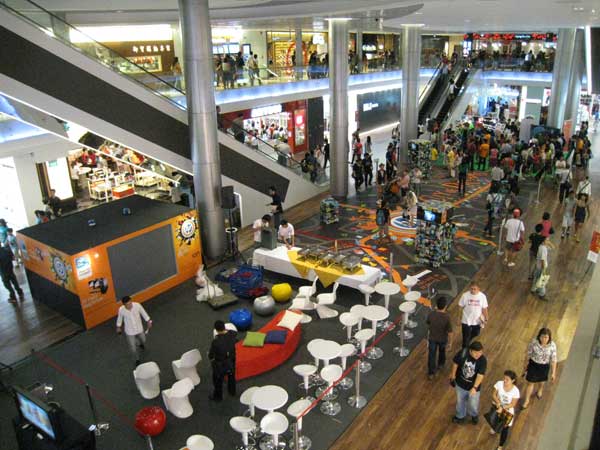 I attended the event with Li Xiang yesterday, thanks to Amelia from Waggener Edstrom for the invite. The event was a short and sweet event, these days I kinda like short event where it will not last more than 2 hours. I think I am getting old here. Talk to a few bloggers there and we realized we grew to a point that we are sick of typing so much stuff and instead post more pictures and let it do the talking.
There are 3 parts to this event, the first part was the prize presentation to the winners of the Lightropolis's design contest. Lightropolis is actually what you call the LED walls located at Ion Ochard near the Orchard MRT station. I thought it is some wall with some LED bulbs changing color and that is all. Didn't know there there is actually a program which you can use to design the wall. Cool stuff.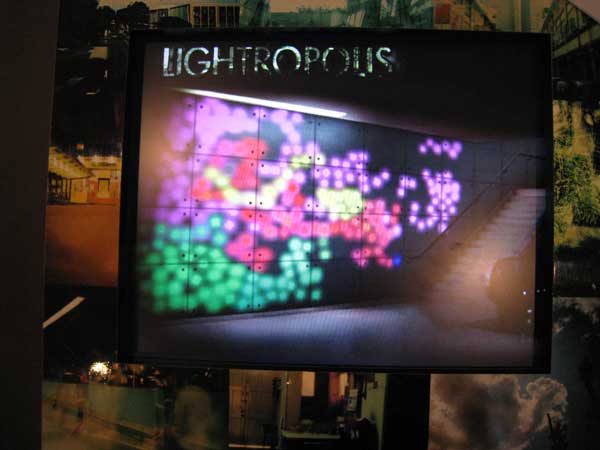 The main highlight of the event was the mini designing competition where you have to design a wallpaper of what you visioned your City of Dreams will be. We are split into 3 teams (Li Xiang and I are on separate teams). We need to include the HP logo, the text "City of Dreams" and "The Computer Is Personal Again" into the wallpaper.
Our team chooses the best computer in the house! The HP Z800 Workstation! It is running on 12GB of DDR3 ram but it can support up to 192GB of ram! The monitor is a 30″ one, the HP LP3065 30-inch Widescreen LCD Monitor. I would like to have a 30″ monitor someday!
Li Xiang team is using the HP Z600 Workstation and the other team is using the HP Z400 Workstation. There is one computer workstation which nobody uses which is the HP xw4600 Workstation. I guess when we have the choice, we all settled for the best!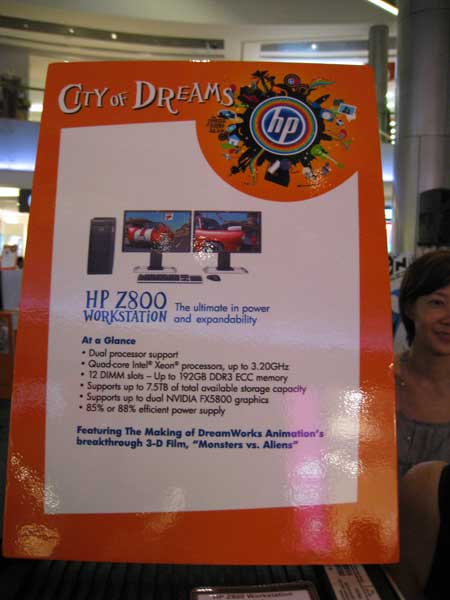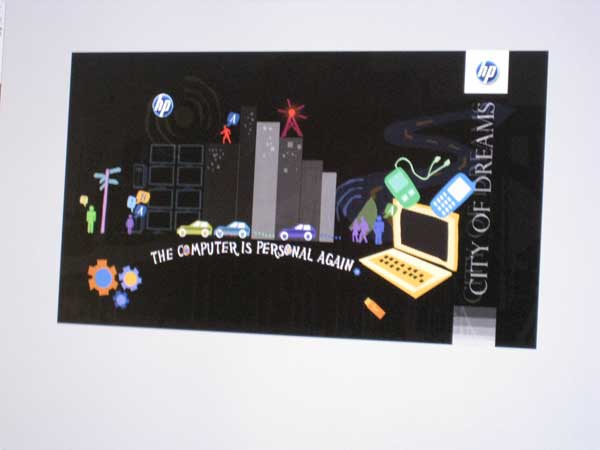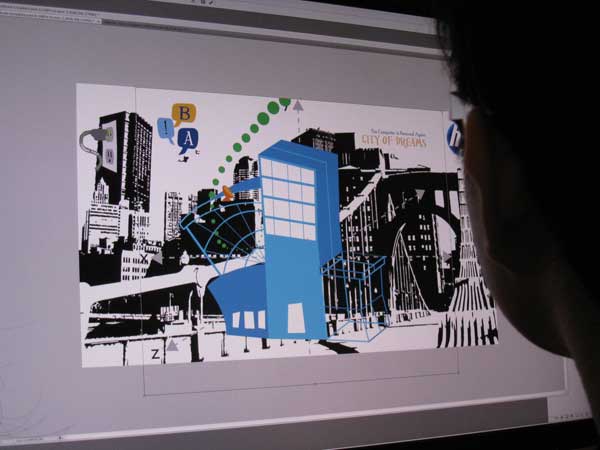 While waiting for the judges to tally the results from the designing competition, we are brought to the photo taking area to take photos with Ben 10. Seriously Ben 10 is so not my era, in fact I have no idea who is he and what he do. My era was Tom & Jerry!
Here is who Ben 10 is from Wikipedia:
Ben Tennyson, his cousin Gwen, and their grandfather Maxwell start their summer camping trip. Ben goes stomping off into the woods after another fight with Gwen, whom he is not happy to have along on the trip, and finds an alien pod on the ground. When he examines it, he finds a mysterious, watch-like device, called the Omnitrix, stored inside. The device attaches permanently to his wrist and gives him the ability to transform into a variety of alien life-forms, each with their own unique powers, quite similar to DC Comics' Dial H for Hero comic. Although Ben realizes that he has a responsibility to help others with these new abilities at his disposal, he is not above a little superpowered mischief now and then. Along with Gwen and Max, Ben embarks on an adventure to fight evil, both extraterrestrial and earthly.
After the photo taking session, the results are out, unfortunately both of our teams did not win. Maybe they should have a second and third prize as well and then we will all win lol.
Maybe we should have a programming competition next =D
Links: