Striiv Touch is an activity tracker and smartwatch merged into one. In Singapore, Striiv products are being distributed exclusively by Axtro Sports.
You can get the Striiv Touch for S$139 online from axtrosports.com or from the following physical locations:
Axtro Sports (#02-01 Peninsula Shopping Centre)
Perfect Watch & Electronics (#01-36 Sim Lim Square)
Tangs Orchard (Level 3 Techno Bay Tangs Plaza)
DigiVue (#02-04, #02-18 Funan IT Mall)
Courts Megastore (50 Tampines North Drive 2)
TwoBros (#01-23 myVillage @ Serangoon Gardens, #02-35/36 Novena Square, #02-19 112 Katong)
EpiCentre
Specifications
Tracks: Steps, miles, calories, minutes of activity
Sleep Monitoring: Yes (quality and duration)
Notification: Incoming calls, text messages and meeting reminders
Resistant: Water (Shower, Bath, Sweat)
Screen Size: 2.3cm x 1.4cm (OLED Ion Hardened Glass Touchscreen)
Weight: 16g
Band Size: Fits up to 21 cm wrist
Battery: Lithium Ion rechargeable battery, up to 5 day battery life
Bluetooth: Bluetooth 4.0 LE
App: Android and iOS
Packaging
1x Striiv Touch
1x Charging Cradle
1x Short Micro USB Cable
1x Spare Band Buckle
1x Setup Guide
1x Sizing Guide
The band comes in only one size because it has many belt holes.
If the trailing end of the strap is too long, they recommend you to cut it away as shown in the sizing guide below.
Setting Up
The pairing of the Striiv Touch with your phone is a pretty smooth process as shown in the screenshots below.
There is a new firmware which came out after I got my Striiv Touch and it prompted me to update automatically.
Charging
I like the way Striiv Touch charges. It comes with a cradle and all you have to do is open the cradle cover and place the Striiv Touch in it. You don't have to remove the tracker like Fitbit Flex or cover like Jawbone UP/UP24. It is almost hassle-free.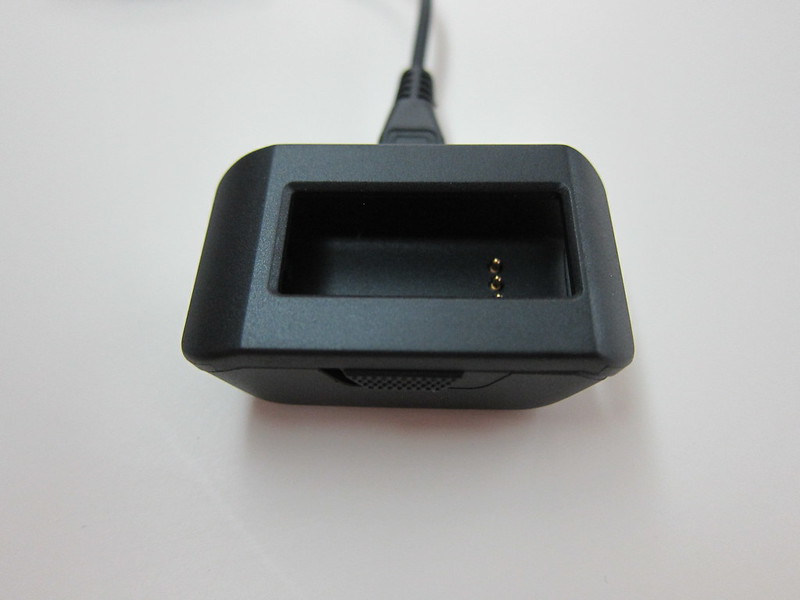 On a full charge, the Striiv Touch can last for 6 days which is not bad. In contrast, Fitbit Flex for me last about 5 days.
UI
The Striiv Touch comes with a touch screen and there are no buttons on it. The screen is made of OLED Ion Hardened Glass and is visible under direct sunlight. The display is pretty sharp but if you look closely enough you still can spot the pixels.
To turn it on, you have tap the screen five times. Swiping to the left will review your steps taken, distance walked, calories burned and active minutes. Swiping to the right will give you the app screen where you can toggle the sleep monitor, see your notifications and check the general information of the Striiv Touch.
When I received the Striiv Touch, the notifications are limited to just incoming calls, text messages and meeting reminders. However, after a firmware upgrade on Sunday, 12th October 2014, it now pushes all notifications to the Striiv Touch. However, I think the implementation is not done properly. Both new and old notifications will continue to get pushed to your Striiv Touch till you clear them on the iPhone. After you view the notification on your Striiv Touch and click back, it doesn't "mark it as read" unlike the Pebble. It is pretty irritating.
Another very frustrating point I have with the Striiv Touch is that the screen turns off automatically too quickly. Once your finger is off the screen, it turns off within half a second.
The UI is pretty responsive despite the video above might show otherwise. Holding the camera in one hand and swiping the Striiv Touch on the other while looking through the screen of the digital camera is indeed challenging.
App
Striiv has an app available on both Android and iOS.
The iOS app is pretty well designed and I like the color coding of the goals on the dashboard.
You can also link Striiv to third-party apps like MyFitnessPal, RunKeeper and EveryMove.
Besides the usual settings like app (imperial vs metric), goals (steps, active minutes, distance, calories and sleep), profile (name, gender, height, weight and step length), there is an interesting game within the app called MyLand.
The Striiv includes a game called "Myland," which bears a similarity to some games you'll find on social networks. Within "Myland," you use coins and energy to build structures and plants in an effort to bring life to an island. You earn energy through activities. As you build out your island, you'll earn coins, which you can use to buy more items. You can also trade in energy for coins. To advance in the game you have to stay active in real life — that's how you earn more energy.
They also monetize MyLand. You can purchase gems for MyLand through the in-app purchases and the gem prices range from US$5.99 to US$99.99.
I don't really play games on my phone, so the game doesn't appeal to me. But I kinda like the idea of fitness's gamification on top of just meeting the daily goals.
There is also a in-app chat system, though I am not sure how many people will actually use it to communicate. I don't foresee myself using the chat much.
Summary
I think the fitness tracker market is getting saturated and each fitness tracker company tries to be different. For Striiv, they make the screen on the Striiv Touch a touch screen and they included an in-app game to gamify your fitness experience.
Some people like their fitness tracker to have a screen to provide immediate feedback about their steps count like the Nike FuelBand and since the Nike FuelBand is no longer available, I think the Striiv Touch is a good and reasonable (S$139) alternative.
I also love the way Striiv Touch charges, there is no need to remove anything from the band to charge unlike Fitbit Flex or Jawbone UP.
Striiv Touch supports notifications, but it is buggy, I hope the next firmware will fix it.
Pros:
Reasonably priced
Striiv Touch's screen is a touch screen
Interesting way of charging the Striiv Touch
Fitness's gamification through in-app game called MyLand
Cons:
The duration of Striiv Touch's screen being illuminated is too short
Notification is buggy and needs more work