I finally gotten the GoPro HERO4 Black Edition after hesitating for quite some time. Thanks to my mom for buying it for me.
Both models of GoPro HERO4 was out of stock at VivoCity's Challenger ever since Christmas last year. And since only the Black Edition stock came in, I decided to get the Black Edition instead of waiting for the Silver Edition.
GoPro has very strict control on it's pricing and hence you can't really get any discount. Even buying it at Challenger, you will only get member's points
The GoPro HERO4 Black Edition retails for S$700 while the GoPro HERO4 Silver Edition retails for S$550.
When I am in Hong Kong earlier on this year, I went to checkout the GoPro HERO4 prices and surprisingly, it is much more expensive than in Singapore, the HERO4 Black Edition is S$30 more expensive while the HERO4 Silver Edition is S$40 more expensive.
The main difference between the Black and Silver Edition is the Black Edition is able to record 4K (3840×2160) videos, 2.7K (2704×1520) videos, 1440p (1920×1440) videos and 1080p (1920×1080) videos at 120fps while the Silver Edition max out at 1080p at 60fps.
The only thing I like about the Silver Edition is the Built-in Touch Display. For the Black Edition, I need to get the extra LCD Touch BacPac which cost S$120 and it adds some weight to the GoPro camera. I have no idea why GoPro doesn't include the Built-in Touch Display for the Black Edition.
Alternatively, you can use the GoPro App (iOS | Android | Windows Phone) as a live viewfinder. However, I am not a fan of it because it lags by about 3 seconds and the image quality of the viewfinder is worst than using the live viewfinder on Sony Memories app for the Sony HDRAS20 Action Video Camera.
The good thing about the GoPro App is that you can control every settings on the camera and even view all photos and videos recorded by the camera easily. It may come to a surprise but the Sony Memories app doesn't allow you to view all photos and videos recorded by the camera.
Box Contents
Booklets

Safety Information
Warranty + Disclaimers
Getting Started
Quick Start Guide
User Manual

1 Sheet of 3x GoPro Stickers
Skeleton Backdoor
Thumb Screw
Quick Release Buckles
Vertical Quick Release Buckle
3-Way Pivot Arm
Mini USB Cable
Rechargeable Battery (S$35)
White Quick-release Anti-vibration Locking Plug
Standard Housing 131″ (40m) (S$75)
GoPro did include quite a bit of accessories in the default packaging. But having a GoPro camera is just a start, you will end up spending more money on the GoPro accessories in months to come.
GoPro HERO4 Black Edition itself weighs 86g and after adding the standard housing to it, it weighs 150g.
Note that GoPro doesn't use the standard tripod mount and hence if you want to mount it to a tripod, you got to get the GoPro Tripod Mounts for S$20.
I thought these days, Micro USB is the standard now, but I was wrong. GoPro still uses Mini USB to charge the camera and connecting it to a computer. So when travelling, you need to remember to bring a long an additional Mini USB cable to charge the camera.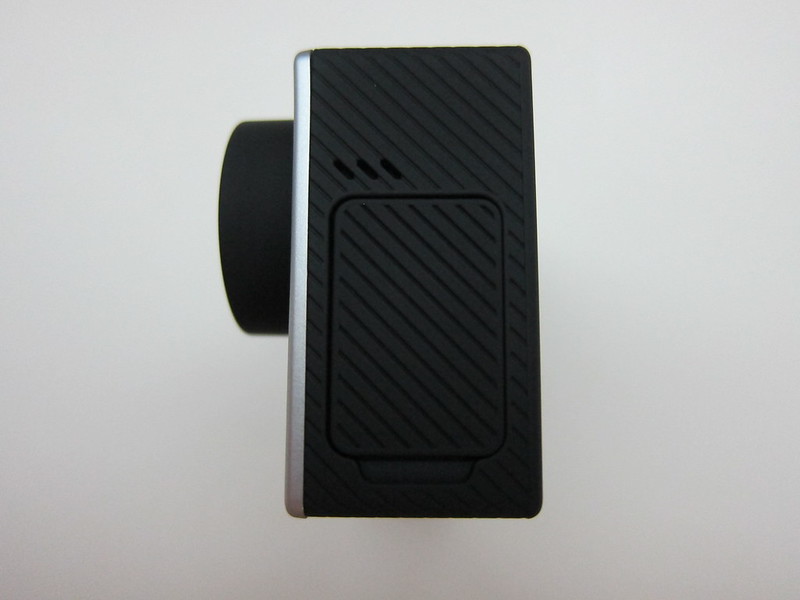 GoPro uses MicroSD memory card and they have a list of recommended MicroSD memory cards. Instead of using the SanDisk Extreme 64GB microSDXC which is on the list, I am using a lower model which is the SanDisk Ultra 64GB microSDXC which retails for S$85 at Challenger (member's price is S$76.50). The sales person told me that SanDisk Ultra is good enough to get started for full HD videos. But if you intend to shoot 4K video regularly, it is recommended to get the SanDisk Extreme instead.
For a more detailed review on the GoPro HERO4 cameras, checkout DC Rainmaker's post: The 2014 GoPro's In-Depth Review: Hero4 Black, Hero4 Silver, GoPro Hero.