HTC U Ultra was launched in Singapore on 25th February 2017 and it is retailing for S$898.
It is available in three colors: blue, black and pink. Only one storage capacity is available in Singapore which is the 64GB. No one yet on the 128GB availability in Singapore.
HTC U Ultra is HTC flagship phone for the first half of 2017 despite using a Qualcomm Snapdragon 821 processor from 2016. I believe they will eventually launch a new flagship phone dubbed HTC U with Qualcomm Snapdragon 835 in a few months time.
Similar to the iPhone 7/7 Plus, the HTC U Ultra doesn't come with a 3.5mm headphone jack. It doesn't bother me because I have moved on to wireless earphones/headphones since the beginning of last year.
An interesting feature of the HTC U Ultra is the secondary display screen at the top of the phone, similar to the LG V20. It shows your favorite contacts, app shortcuts, and notifications. It is a little gimmicky, and the display is not always on.
The HTC U Ultra is not waterproof, not that it matters to me. But I find this is a good to have feature.
Specifications
CPU: Qualcomm Snapdragon 821, 64 bit quad-core, up to 2.15 Ghz
RAM: 4GB
Internal Storage: 64GB
External Storage: microSD up to 2TB
OS: Android 7.0 with HTC Sense
Screen: Corning Gorilla Glass 5 with curve edge
Display: 5.7″ Quad HD (2560 x 1440) (513ppi) with Dual Display Super LCD 5
Rear Camera: 12MP (HTC UltraPixel 2 with 1.55μm pixel), OIS, f/1.8, dual tone LED flash, sapphire lens, 4k recording
Front Camera: 16MP (HTC UltraPixel), BSI sensor, 1080p video recording
Sound: HTC Usonic, HTC BoomSound Hi-Fi edition, 3D Audio recording with 4 microphones
Network: 2G/2.5G/3G UMTS/4G LTE (up to 600Mbps)
Location: GPS, A-GPS, GLONASS, Beidou
Sensors: Ambient light, Proximity, Motion, Compass, Gyro, Magnetic, Fingerprint
Connectivity: NFC, Bluetooth 4.2, Wi-Fi 802.11 a/b/g/n/ac (2.4 & 5 GHz)
Battery Capacity: 3000 mAh
Charging: USB 3.1 Type-C. Supports Quick Charge 3.0
SIM: Dual Nano SIM
Dimensions: 162.41 x 79.79 x 3.6-7.99 (mm)
Weight: 170g
In terms of performance, The HTC U Ultra perform better than my Huawei Mate 9, obtaining a score of 135,494 on AnTuTu Benchmark vs 120,794 on the Mate 9. I did not notice any laggieness when using it.
Unboxing
Interestingly, they included a clear back cover in the package. I guess once you have gotten a phone, the next logical thing that most people will do is to get a phone cover to protect the phone. But given HTC phones aren't exactly that popular, it might be hard to get a phone cover. They did the right thing by bundling the back cover in the package. Huawei did the same thing for the Mate 9.
They included a USB-C to USB-A cable and a USB charger. I wish they included a USB-C cable and a USB-C charger instead. The world has been moving towards USB-C since 2016, and I believe this year, they will replace the USB charger with USB-C charger.
Since it is powered by Qualcomm Snapdragon 821, the HTC U Ultra supports Qualcomm Quick Charge 3.0. This allows the phone to receive a 50% charge within 30 minutes. After surpassing the 50% charge, the charging speed slows down to prevent over-stressing the battery.
Because the HTC U Ultra doesn't have a 3.5mm jack, it has included USB-C earphones in the box. I wish HTC would also add a USB-C to 3.5mm headphone jack adapter so that existing users who are still using wired earphones/headphones will not be left out.
Apple did the right thing by including both the Lighting earphones and Lighting to 3.5mm headphone jack adapter when they decided to remove the 3.5mm audio port in iPhone 7/7 Plus.
The included USB-C earphones is called HTC USonic. As the fancy name suggests, it is not just an ordinary earphones. HTC USonic will analyze your inner ears with a sonic pulse and then adapts the sound to suit you.
Design
The HTC Ultra U is beautifully designed.
However, it doesn't feel as premium as phones with metal bodies. Instead, it feels a little plasticky.
The home button is capacitive similar to iPhone 7/7 Plus. Since I have been using the iPhone 7 Plus for more than six months, I have gotten used to home buttons that don't move.
Most Android phones I used have their fingerprint sensor at the back. For the HTC Ultra U, the fingerprint sensor is on the capacitive home button in front similar to the iPhone 7/7 Plus. It took me a while to get used to that.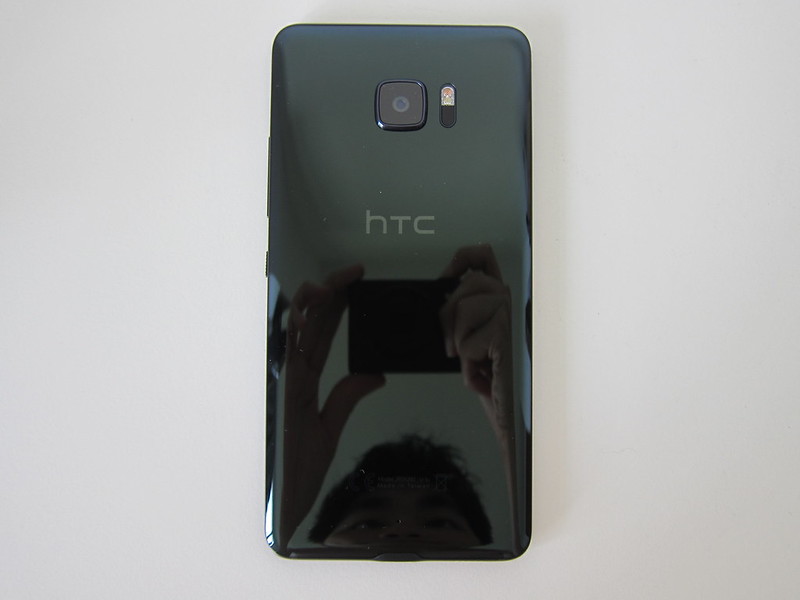 The phone is mostly made up of glass which has been curved around the side and edges. To achieve the reflecting surface of the glass, HTC developed a new process where colors are bonded to the glass in multiple layers. That enables light to be reflected on it nicely.
When I first held the phone, it felt solid and lighter than my iPhone 7 Plus or Mate 9. It also doesn't feel slippery in your hands.
The SIM tray is made of plastic rather than metal.
UI/UX
HTC Sense is a lightweight customization on top of Android. It doesn't bundle a lot of apps with the phone which is good. Most of the bundled apps can't be uninstalled.
Boost is a nice bundled app that you can be used to optimize your phone.
There are ads which are opt-in by default in HTC Highlights which is the successor to HTC Blink Feed. I find that irritating. The screenshot on the left is what you will get when you are viewing Highlights for the first time. The screenshot on the right is after you have opted out of the ads and started to add sources to Highlights.
Again. Ads are everywhere!
Notifications from News Republic App are also another annoying thing. Again, the ads in the app are default opt-in, and you cannot uninstall the News Republic App.
After using it for a day, I gave up and switched over to Google Now launcher.
Primary Display
The primary display is a 5.7″ Quad HD (2K) (2560 x 1440) Super LCD 5 screen. It has a pixel density of 513ppi and is made of Corning Gorilla Glass 5.
I love the display, it is vivid, bright, and the colors are vibrant. It is also visible under direct sunlight.
Given the size of the screen, the battery capacity of the HTC U Ultra is relatively small at 3,000mAh. It barely lasts me a day with normal usage. When compared to my previous Huawei Mate 9, the 4,000mAh battery with full HD screen can last me one and a half days.
Secondary Display
The secondary display of the phone is located at the top beside the front facing camera. It occupies about 75% of the width of the phone, while the remaining 25% belongs to the front facing camera and sensors.
The secondary display is used to show your notifications, favorite contacts, calendar events, weather, music controls, app shortcuts and reminders. You can customize what you want to show.
When your phone is in standby mode, the secondary display will be activated when you hold up the phone. Similar to Apple's raise to wake feature in iOS 10.
I felt it is a little gimmicky because all these information can be displayed on the lock screen as well.
It will be useful if the secondary display is always on, but it is not the case.
Interestingly, when you launch the camera app, the secondary display will turn to black.
2017 will the year of bezel-less display starting with the Samsung S8/8+ launched last week, this does make the HTC U Ultra looks outdated.
Audio
The built-in stereo speakers in HTC U Ultra features HTC BoomSound. HTC BoomSound creates a 5.1 surround sound effect by delivering channel-specific, optimized audio. You can toggle between Theater mode and Music mode.
I tested HTC BoomSound music mode and the output from the speakers is loud.
I can't tell the difference in sound quality between the HTC U Ultra and my iPhone 7 Plus.
Camera
The camera is decent, and the shutter speed is fast, something which I like.
It supports shooting in RAW as well.
There are a few modes that are available: Selfie Video, Selfie Panorama, Selfie Photo, Slow Motion, Hyperlapse, Panorama, Zoe Camera and Pro. The Pro mode allows you to adjust all the advanced camera settings like ISO, shutter speed, and white balance.
I am not that person who likes to tweak the camera configuration, so all the settings are in auto mode.
For day shots, photos taken by HTC U Ultra seems to be slightly darker as compared to iPhone 7 Plus.
For close up photos, the auto white balance of the camera seems very off.
Photos taken by HTC U Ultra at night tends to be brighter if there is sufficient light.
If there is insufficient light, the photos taken by HTC U Ultra are more grainy.
Conclusion
The HTC U Ultra is what HTC should release last year after the launch of HTC 10. It should be a 2016 flagship phone rather than a 2017 flagship phone. There is no wow factor to it other than the design and materials used. Even the secondary display is gimmicky and not useful for day to day use.
The lack of 3.5mm headphone jack doesn't bother me, but the battery does as I am unable to get more than a day of usage with it.
HTC included many ads in their software, and that irritates me as an end user. You can't uninstall News Republic app and that further irritates me. Luckily for ads in HTC Sense, that can be solved easily with Google Now Launcher or Microsoft Arrow Launcher.
HTC U Ultra display is excellent while the camera and audio are decent. The phone is fast and doesn't feel sluggish.
If you need a phone now or have budget constraints, the HTC U Ultra is a good choice. Given that the price of the phone is S$898, I still find it rather reasonable.