The Linksys WRT1900AC box got to be the biggest box for a router that I have received. When I opened the box, everything is held in place with foam instead of cardboard and there is sponge sticked to the top of the box to protect the router. I have not seen such premium packaging before for a router.
The Linksys WRT1900AC will be retailing for S$399 which makes it the most expensive consumer router that I come across. It is even more expensive than the Asus RT-AC68U. It will be exclusively available at all Challenger outlets from 22nd May 2014 (yesterday) to 22nd June 2014. After that, it will be available at all other leading IT stores in Singapore from 23 June 2014 onwards.
Specifications (From SmallNetBuilder)
CPU: Marvell MV78230 Armada XP (1.2 GHz, 2 cores)
RAM: 256MB
Flash: 128MB
Wireless: 802.11 a/b/g/n/ac wireless LAN

2.4GHz

Marvell 88W8864
IEEE 802.11n, IEEE 802.11g, IEEE 802.11b
Speeds up to 600 Mbps

5GHz

Marvell 88W8864
IEEE 802.11ac, IEEE 802.11n & IEEE 802.11a
Speeds up to 1300 Mbps

LAN/WAN

4x 10/100/1000 Gigabit LAN ports
1x 10/100/1000 Gigabit WAN port
Marvell MV78230

Antennas: Four exchangeable external antennas
Other Ports: 1x USB 3.0 port, 1x eSATA/USB 2.0 Port
Dimensions (H x W x D): 3.81 x 25.4 x 19.05cm
Weight: 1kg
Linksys Smart Wi-Fi Mobile App
Features
Pre-configured Virtual LAN (VLAN) IDs of all major fiber Internet service providers in Singapore
Browser-based setup for installation from device PC/Mac, smartphone or tablet
Can be configured as: router, range extender (aka repeater) or wireless bridge
Ability to hide SSID broadcast
Setup wizard sets up two SSIDs, one per radio band
Linksys Smart Wi-Fi can be accessed from a browser or the Linksys Smart Wi-Fi app for iOS and Android
Share printers or storage devices through USB or eSATA
Built-in DLNA-certified media server and FTP server to share files
Drag-and-drop media prioritisation to prioritise bandwidth for devices, applications or games
Parental controls to prevent access to websites or block access during certain hours
Dynamic DNS services supported: No-IP, DynDNS and TZO
Built-in speed test to test broadband upload and download speed
Unboxing
Design
I love the design of the WRT1900AC. I think it is the best looking router in the market right now. The design was inspired by the very popular and iconic WRT54G Wi-Fi router which was introduced 11 years ago. It even take on the same blue and black color.
The WRT1900AC is huge, measuring 3.81cm (H) x 25.4cm (W) x 19.05cm (D) and heavy, weighing about 1kg and that makes it feels solid and stable when placed on a table.
From left to right:
Wi-Fi Protected Setup (WPS) Button
4x Gigabit LAN Ports
1x Gigabit WAN Port
1x USB 3.0 Port
1x eSATA/USB 2.0 Port
Reset Button
12v DC Power
On/Off Switch
Ports/Buttons
The ports of the router is pretty standard except for one port which is the eSATA/USB 2.0 Port. I have not seen a port like that before in a router. They port name is called eSATAp (also known as Power over eSATA, Power eSATA, eSATA/USB Combo, eSATA USB Hybrid Port (EUHP)).
When you connect a eSATA hard drive to the port, it will give you transfer speed up to 3Gbps whereas if you connect a USB 2.0 hard drive, it will give you speed up to 480Mbps. I wish the port supports USB 3.0 instead of 2.0.
Light Indicators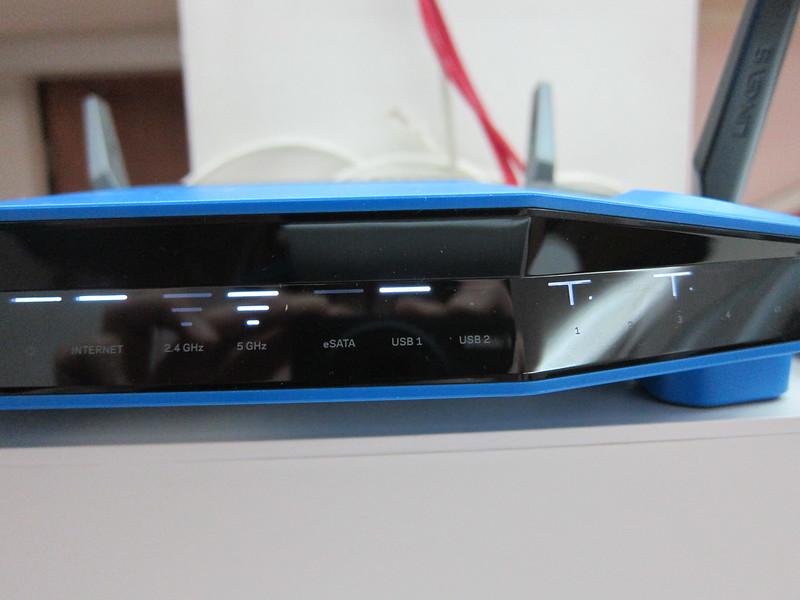 Setup
My house Internet setup is little bit different as I need to bridge my Residential Gateway and Router and hence the default instructions will not work for me.
The default instructions require me to go to linksyssmartwifi.com to setup my router which will not work for me because my router needs to be on Static IP and without configuration, my router essentially has no Internet access.
Instead, I have to go to the default router IP which is http://192.168.1.1 to setup and the default router password is admin.
The WRT1900AC supports VLAN tagging and it comes pre-configured with VLAN IDs of all major fiber Internet service providers in Singapore. What this means is that you can replace the crappy wireless router you have from your ISP with the WRT1900AC. So now the WRT1900AC will connect directly to the Optical Network Terminal (ONT).
Note that if you are using digital voice (like me), you can't use the above method because the WRT1900AC doesn't come with a telephone jack. So you have no choice but to stick with what you have or bridge it like me.
Admin Interface
Since Belkin bought over Linksys in March 2013, Cisco Connect Cloud which I reviewed in the Cisco Linksys EA4500 Router has been renamed to Linksys Smart Wi-Fi.
The UI and functionality is pretty much the same and they made the UI much faster. I did complained about the slow UI in Cisco Connect Cloud in my review two years back.
There is a new feature which is the Network Map. Network Map is a visual representation of all the devices that are connected to the router. Using the network map, you can see the how strong the signal is to a device and which wireless band it is connected to. You can even check how much Internet bandwidth is the device using.
Since I am familiar with the UI having reviewed two Linksys routers before, I have no problem finding the respective screen to set things up. However if you are new to Linksys, it might take some time for you to familiarize with the UI. Having said that, I think the menu can be better organised/classified.
The UI on the stock firmware only allows you to configure very basic settings so unless you flash it with OpenWRT firmware (see below), don't expect to configure advanced settings.
Wireless Strength
I am surprised that having 4 external antennas on the WRT1900AC, it still losses out to the 6 internal antennas of the D-Link DIR-868L AC when it comes to wireless strength!
But since the external antennas of the WRT1900AC is removable and hence upgradable, I will probably replace it when Linksys releases the more powerful high-gain antennas.
As always, I am using WiFi Explorer to test the wireless strength at 2 locations in my house, my room and the toilet.
| Location | WRT1900AC | DIR-868L | My Net N900 | EA6500 | EA4500 | DIR-855 |
| --- | --- | --- | --- | --- | --- | --- |
| My Room (2.4GHz) | 76% | 79% | 75% | 79% | 78% | 80% |
| My Room (5GHz) | 78% | 91% | 64% | 64% | 65% | 46% |
| Toilet (2.4GHz) | 50% | 58% | 46% | 53% | 72% | 56% |
| Toilet (5GHz) | 46% | 55% | 35% | 41% | 33% | 31% |
Speed
I am on StarHub 300Mbps Fibre Home Broadband and from the Speedtest below, you can see everything is setup correctly and StarHub does delivers 300Mbps.
When it comes to LAN and wireless speed, WRT1900AC won in LAN to LAN and Wireless N (5GHz) to Wireless N (5GHz) speed but loses out to DIR-868L in LAN to Wireless N (5GHz).
Unfortunately I can't test on Wireless AC because I don't have any Wireless AC devices or adapter.
In case you are wondering, I am using Speedy Net to test for the transfer speed.
| Type | WRT1900AC | DIR-868L | My Net N900 | EA4500 |
| --- | --- | --- | --- | --- |
| LAN to LAN | 780.27Mbps | 500.19Mbps | – | – |
| LAN to Wireless N (5GHz) | 146.14Mbps | 217.61Mbps | 113.48Mbps | 107.81Mbps |
| Wireless N (5GHz) to Wireless N (5GHz) | 146.91Mbps | 75.71Mbps | 63.01Mbps | 65.17Mbps |
OpenWRT
One of the best selling point of the WRT1900AC is the ability to run OpenWRT firmware on it eventually. Why I say eventually is because the firmware is not ready for public release and I am guessing it will not be ready till end of the year because of the ping pong between Linksys, OpenWRT and Marvell as clarified by Linksys below:
Linksys has built the WRT1900AC with every intention of providing open source capabilities and making it the best solution available to the community. Linksys has provided OpenWRT with an initial code release that enables open source firmware development. OpenWRT has requested some patches to provide more open source functionality at the Wi-Fi driver level that requires cooperation from Marvell.

Marvell is working on the usable driver and getting the required approvals through GPL. We are expecting this to be finalised and ready in the coming weeks. As soon as this is complete; the driver will be released to OpenWRT. We will continue to collaborate with OpenWRT to ensure they have the necessary software as requested.

In the meanwhile, an SDK based on Attitude Adjustment release of OpenWRT is posted here: https://github.com/wrt1900ac/opensource. This allows users to run OpenWRT FW on the WRT1900AC router.

Our aim is to provide a robust and high performing hardware and software platform for the open community developers to customise their WRT1900AC the way that they see fit. We will continue to work with the open source community and our chipset partners to ensure the developers have the necessary tools to do so.
Linksys Smart Wi-Fi Mobile App
The Linksys Smart Wi-Fi Mobile App is available on iOS and Android. The mobile app allows you to monitor and manage your Linksys Smart Wi-Fi Router. When it comes to managing your router, the app certainly has more features than the mydlink Lite mobile app.
Summary
Priced at S$399, it is probably out of budget for most people getting a consumer router. However, if you have the money to spend and if you are a techie, I think it is a pretty good investment because of VLAN tagging and OpenWRT.
The external antennas is also another advantage because you can upgrade it to a more powerful high-gain one which Linksys plans to release soon.
If you need a more technical review on the Linksys WRT1900AC Router, checkout SmallNetBuilder review as well as the SmallNetBuilder tests on the Linksys WRT1900AC.
Pros:
Nicely designed
Nice UI
Pre-configured VLAN Tags
Capable of running OpenWRT firmware eventually
Can act as router, range extender (aka repeater) or wireless bridge
Removable and hence upgradable external antennas
Cons:
Expensive
Weaker wireless strength
Slow LAN to wireless speed